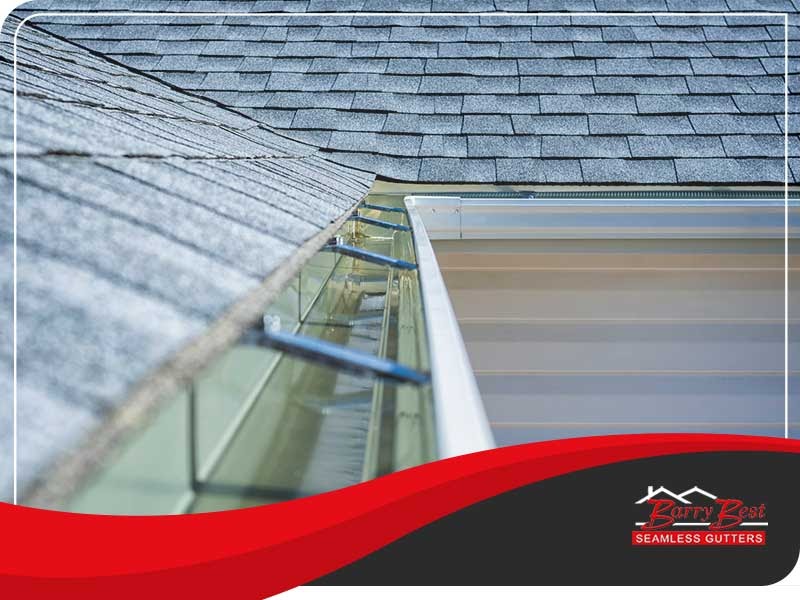 Aside from gutter materials, what are the things you should consider when choosing new gutters? Gauge (or the thickness of your gutters) is one of them. The four standard sizes are .019 and .025 inch (light), .027 inch (medium) and .032 inch (heavy) gauges.
The industry standard for gutter gauges is .027, but depending on your local climate, you may need a higher gauge. Remember: there's no such thing as a one-size-fits-all approach in home improvement projects, and gutter replacement projects are no exceptions.
Barry Best Seamless Gutters, your trusted gutter installation contractor, shares tips on identifying the correct gutter gauge below:
The Local Climate
In general, .027 gauge aluminum gutters are durable enough to withstand mild to moderate weather. But if your area has a temperate climate or often experiences heavy wind, rain or snowfall, we recommend installing .032 gauge gutters. As a general rule, the higher the gauge, the more durable the gutters.
Here's a tip: to find out which gauge is most suited to your area's climate, consult a local gutter installation contractor. Since they're more familiar with the local climate, they can make better recommendations.
Durability and Affordability
The most affordable option is .025 gauge gutters (commonly sold in home supply stores), but they're not the most cost-effective option. Most contractors wouldn't recommend gutters with this gauge because they're easily damaged. What most contractors would recommend are .027 gauge aluminum gutters, which provide a good balance between cost and performance. However, if you're looking for exceptionally durable gutters, .032 heavy gauge aluminum gutters are a great choice. They have an average lifespan of 20 years (which is higher than certain types of roofs).
Keep in mind that heavy-gauge aluminum gutters are not without their disadvantages. Compared to the other three sizes, they're a bit on the pricey side. But thanks to their exceptional durability, they're worth the investment. Remember: while it's important to stay within your budget, you shouldn't get too preoccupied with the costs. Focus instead on maximizing the returns on investment.
Important note: No matter how durable your gutters are, they still need routine maintenance. If you want to reduce your gutter's maintenance needs, we recommend installing a gutter protection system or gutter guards. A gutter protection system prevents leaves and other debris from entering and clogging your gutters, reducing their maintenance needs.
Keep in mind that gutter guards can only lower, not eliminate, your gutter's maintenance needs. That is except for Gutter Helmet®, the only brand on the market with a Never Clean Your Gutters Again® guarantee. Its patented nose-forward design allows rainwater to flow to the drains while keeping debris out.
How Gutter Helmet Works
Gutter Helmet uses the principle of surface tension to direct the flow of water to your gutters. Surface tension happens when water molecules stick to each other because they have nowhere else to cling to. You can see the principle of surface tension in action when water in a glass gathers into a dome right before it spills over. When rainwater hits Gutter Helmet's textured-and-ribbed surface, water is directed to the gutter covers' patented nose-forward design, which allows water to enter the gutters while keeping leaves, twigs, and other kinds of debris out.
Gutter Helmet's gutter protection system is designed to withstand harsh weather. It's made of aluminum and is sturdy enough to handle heavy snow and rainfall. For added protection against the elements, Gutter Helmet has a Permalife™ finish that resists fading from natural wear and tear as well as corrosion caused by exposure to saltwater and acid rain.
Heated Gutter Systems
If you live in a cold climate, we recommend installing heated gutter systems that can prevent ice dams from forming on your gutters in winter.
Curb Appeal
We recommend installing .032 heavy gauge aluminum gutters if you want to keep your home's curb appeal intact. That's because durable gutter systems, like heavy those made of heavy gauge aluminum, are more resistant to dents, which lower your home's curb appeal.
Here's a pro-tip: if you want to add a sophisticated elegance to your exterior, you might want to consider installing copper gutters. Unlike other metals, the curb appeal of copper increases as it ages. Overtime (five to 20 years to be exact), exposure to moisture and oxygen will cause a patina to form on the surface of copper, turning it into a light bronze, a darker bronze, and eventually a green color. As an added benefit, the patina protects copper from the elements.
What are the disadvantages of copper gutters? It's a bit on the pricey side, but thanks to their exceptional durability, they're well worth the investment. Keep in mind that compared to other metals, copper is harder to work with. That's why only experienced contractors should handle their installation.
What Are Your Other Gutter Options?
There are several reasons why aluminum is the most popular gutter material. They're lightweight, durable and resistant to rust. However, it's always good to know more about your gutter options.
Here's an overview of the most widely used gutter materials:
Zinc gutters – Like copper, zinc also develops a patina on its surface after exposure to the elements. The patina coating shields zinc gutters from the elements and helps extend their lifespan to a minimum of 50 years. What's the main difference between copper and zinc gutters? Copper gutters (which are often installed in historic homes) are a great choice if you want to add an elegant rustic feel to your exterior. But if you want more design flexibility, zinc gutters come in a wide variety of colors.
As an added benefit, zinc gutters have fewer maintenance needs than other types of gutters. Keep in mind that low maintenance doesn't mean "no" maintenance. To keep your gutters free of clogs, you should routinely remove leaves, twigs, and other debris inside them. If you just don't have the time for chores like gutter cleaning, you might want to consider installing gutter covers.
Vinyl gutters – Vinyl gutters are the most affordable option, but they're not the most cost-effective choice. Yes, they're lightweight and immune to corrosion. However, they don't last as long as aluminum gutters and may suffer warping when exposed to high temperatures.
Galvanized steel gutters – Galvanized steel gutters are coated with zinc to prevent corrosion. However, this thin layer is easily scratched.
Seamless Gutters
To increase your roof's protection against leaks, we recommend installing seamless gutters. Since they lack joints—a weak point of standard gutter systems—they're less leak-prone and have lower maintenance needs than conventional gutter systems. To make the most of your new seamless gutters, make sure to obtain a strong warranty. Our custom US-made seamless gutters come with a 20-year manufacturer's warranty that covers labor and installation.
Tips for Hiring Contractors
One more thing: to make sure your aluminum seamless gutters are installed correctly, you should hire qualified contractors. Here are some vetting tips:
Ask how long they've been in business – The number of years they've been working in the industry should give you a good idea of their level of expertise.
Check their online reviews – Keep in mind that a few negative reviews aren't necessarily a red flag. (Miscommunication happens sometimes, after all.) What you need to focus on is the contractor's response to online complaints. Did they take the time to respond to customer complaints? And if so, did they do it in a professional manner?
What if they don't have a website? That in itself is a red flag. In this day and age, there's
Focus your search on contractors near you – To quickly narrow down your options, limit your search to local contractors.
Barry Best Seamless Gutters offers quality gutters and heated gutter systems. To get a free estimate, call us at (315) 697-5000 or leave us a message online.