Retractable Awnings in Syracuse NY, and the Local Area, Are a Great Way to Enjoy the Outdoors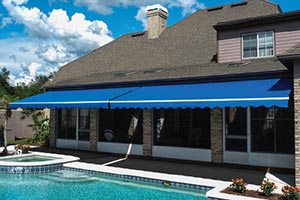 Having retractable awnings in Manlius NY, or the local area, is a great way to spend quality time outside with your friends and family while protecting yourself from the sun. An awning is also great for mild weather conditions which would be just bad enough to force your kids to stay inside, but not so bad that an awning won't keep them dry. There is one extra benefit to having an awning which you might not be aware of: energy savings. If you have a concrete patio which absorbs heat and reflects it back to your windows, an awning stops that heat and provides shade that can even reach inside. When you get an awning that is also retractable, you can protect it from heavy weather conditions so it will last even longer.
Ways to Enjoy Your Outdoor Awning
Spending time outside lets you get the most out of your property. A retractable awning by Sunesta makes it easy to spend more time outside than you might normally be able to. What are some ways you can spend a day, afternoon or evening beneath your awning?
Outdoor barbeque
Board game night
Romantic dinner
Set up your TV outside for the big game
Relax to the sounds of nature
Get the Awning That's Right for You
A great thing about retractable awnings from Barry Best Seamless Gutters is how much you can customize them. With a variety of colors and fabrics available, your new retractable awning from Sunesta can match your style. Every time we provide a retractable awning installation in Fayetteville NY, and surrounding area, is measured and installed specifically for your home layout and needs. Sunesta retractable awnings are custom made up to the inch, and up to 40 feet wide, right here in the U.S.A., No outdoor space is too large or too small that it cannot benefit from a retractable awning for sun protection.
The Very Best Protection

Sunesta retractable awnings come with the best warranties available. Each awning comes with a minimum 12 year warranty, while most companies only offer a 5 year warranty. Sunesta is also the only awning company that offers a lifetime warranty. The warranty depends on the product you choose, so be sure to ask us about your awning's protection plan.
Schedule an Appointment Today
By calling us today, or checking our contact page, you can schedule a free, in-home consultation. Our staff is standing by to answer your questions. Once you have a new outdoor awning, you can enjoy your yard to its fullest potential.