Gutter Protection Systems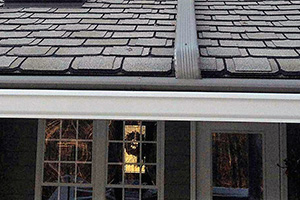 Keeping your gutter system clear of leaves, twigs, pine needles and other debris is necessary in order to allow water to flow freely off your roof and away from your home. Barry Best Seamless Gutters has a simple and effective alternative that can eliminate the unpleasant task of climbing a ladder and cleaning out Canastota NY gutters filled with rotting leaves and other debris.
Keep Your Canastota NY Gutters Free of Leaves and Debris
An innovative gutter protection system from Barry Best Seamless Gutters is a simple and efficient way to keep gutters clear while avoiding the risks of gutter cleaning. Here are some of the advantages of a gutter protection system:
Keeps leaves and debris out of your gutters.
Handles virtually any downpour.
Prevents water damage to siding, landscaping and foundation from overflowing gutters.
Aesthetically pleasing design blends with your gutters and roofline.
Eliminates physical injuries from cleaning gutters.
Comes with a lifetime warranty.
Trust Your Home to a Professional Canastota NY Gutter Contractor
Put your ladder away and let a gutter protection system from Barry Best Seamless Gutters keep your Canastota NY gutters clear. Contact us for a free estimate today by calling (315) 697-5000 or completing our online quote request form.