The Best in Gutter Guards in Fayetteville NY, and the Local Area, with Gutter Helmet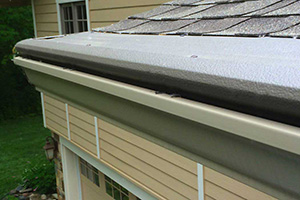 Don't overlook your rain gutters during your next home improvement project. Whether you need new seamless gutters or gutter covers in Syracuse NY, or the local area, it is an important improvement to consider. There are a variety of benefits to be had when you take the time to add Gutter Helmet gutter covers to your home. Spend less time checking and cleaning your gutters with this amazing system meant to guide rain water away from your roof while keeping leaves and other debris out of your gutters.
The Benefits of Gutter Helmet for Your Home
For over 35 years, home owners have trusted Gutter Helmet to improve the functionality of their gutters without any extra maintenance. Homeowners can rely on Barry Best Seamless Gutters for gutter protection in Hamilton NY, and the surrounding area. Here are just a few of the benefits offered by this improved gutter system.
Fits over new or existing seamless gutters
Works with most asphalt shingle, or metal roofs
Prevents gutter clogs and water damage
Multiple colors available to blend with your roof
Lifetime guaranteed
Live Free of Worry for Your Roof and Gutters
Gutter protection is a wonderful investment for your home. You will discover that protecting your gutters is a very simple process which lasts a lifetime. Leaves, dirt, and critters will stay out of and away from your gutters and eaves. The time-tested system of brackets and panels used to install gutter guards offers maximum strength and performance for your home gutters. You have every reason to look into this amazing home upgrade. Gutter Helmet is made right here in the U.S.A., and comes with a triple lifetime warranty, which covers materials, performance, and is transferable.

Our Friendly and Professional Staff Is Standing By
You have every reason to update your home with gutter guards in Rome NY, or the local area, today. Here at Barry Best Seamless Gutters, we want you to have all the information need to make this important decision. Call us today, or view our contact page for more information.