Professional Installers of Retractable Awnings, Seamless Gutters, and Gutter Helmet Gutter Guards in Fayetteville NY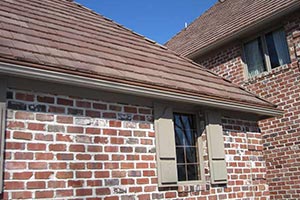 At Barry Best Seamless Gutters, we pride ourselves on providing top-quality products and service. As a locally owned and operated business, we have garnered a reputation for our professional installation of retractable awnings, seamless gutters, and Gutter Helmet gutter guards in Fayetteville NY, and the surround areas. There are a few characteristics that make our products to stand out from the rest.
Seamless Gutters
We custom make our seamless gutters on the premises. They come with a 20 year manufacturer's warranty, and a 10 year warranty through Barry Best Seamless Gutters, which covers labor and installation.Though our gutters have a smaller opening at the top than other gutter options, the space can become clogged with debris if not properly maintained. This can lead to various issues in your home and yard, such as:
water spots on the roof
mold and mildew in the attic
insect infestation
cracks in the foundation
landscape erosion
These problems can build up and can become quite expensive. To prevent these and other issues, we offer Gutter Helmet gutter guards in Fayetteville NY. This device closes off the top of the gutter and prevents anything but water from entering it. Gutter Helmet comes with a triple lifetime warranty which covers materials, performance, and is transferable. For those cold New York winters we also offer Helmet Heat, an industrial grade heating cable that prevents gutters from freezing. Helmet Heat comes with a 10 year warranty. When utilized together these products help to guard your gutters year-round.
Sunesta Awnings
Our retractable awnings are custom made, in the U.S.A., up to the inch, and up to 40 feet, to fit the construction of each home and the needs of our customers. Not only are they specifically designed, but they also come in a variety of colors. We can create the perfect awning for your home.
There are a few benefits to utilizing one of our custom Sunesta retractable awnings:
Protection from UV rays
Cooler temperatures on your porch or patio
Reduced heat entering the home
Lower energy costs
The minimum warranty on Sunesta awnings is 12 years, and it is the only awning company that offers a lifetime warranty. Most awnings companies only offer a 5 year warranty.
Contact Us Today
If you would like more information on seamless gutter, Gutter Helmet, or retractable awning installation in Fayetteville NY, and the surrounding areas, please feel free to contact us today. We offer a no-obligation, free quote.
[serviceareareviewcombo showmap="yes" city="Fayetteville" state="NY" checkincount="20″ reviewcount="20″ zoomlevel="10″]