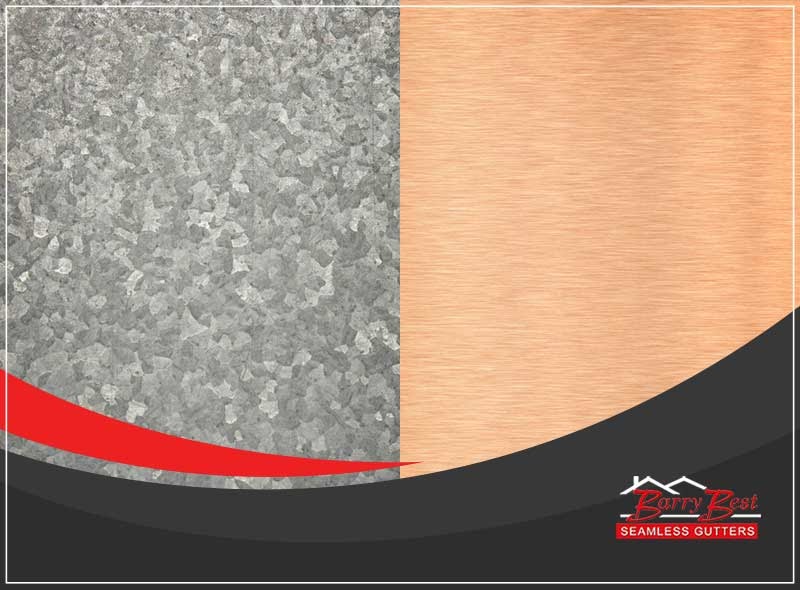 Gutters serve as your roof's first line of defense against the elements. That's why it's important to choose gutter materials that are durable enough to withstand the local climate. If you're looking for exceptionally durable gutters, a zinc or copper gutter installation would be worth the investment.
Which of the two is better? Barry Best Seamless Gutters, elaborates on their respective pros and cons below:
Curb Appeal
Zinc gutters are a great choice if you want as much design flexibility as possible. They come in a wide variety of colors. But if you want a more rustic or classic feel to your exterior, we recommend choosing a copper gutter installation, which is often installed in historic homes.
Copper and Zinc Oxidation and Verdigris Patina
What's the secret behind zinc and copper gutters' appeal? It's the patina that forms on its surface over time. In a span of five to 20 years, zinc and copper gutters will slowly lose their sheen. Copper gutters will slowly turn to a light bronze, a darker bronze, and eventually a green color. Copper oxide (which is formed as a result of exposure to oxygen and moisture) is responsible for copper's brown or reddish-brown color while patina (which form as zinc and copper gutters age) give aging copper gutters their green color. As an added benefit, the patina also hides imperfections on the surface of your gutters.
Durability
The patina serves more than just a cosmetic function—it increases the resistance of zinc and copper gutters (which have an average minimum lifespan of 50 and 80 years respectively) to rust and the elements. As an added benefit, copper is both an algaecide and fungicide.
Here's a tip: to increase your roof's protection against leaks, we recommend installing seamless gutters. Since they lack joints—a weak point in conventional gutter systems—they last longer and have lower maintenance needs than standard gutter systems. To make the most of your new seamless gutters, make sure to obtain a strong warranty. Our custom US-made seamless gutters come with a 20-year manufacturer's warranty that covers labor and installation.
Eco-friendliness
Zinc and copper gutters are a great choice if you're trying to go green. Both are recyclable, so you won't have to worry about discarded gutters ending up in the landfill. In particular, copper has twice the recycled value of aluminum and almost four times the recycled value of stainless steel, which is why most new copper gutters have 70% to 100% recycled content.
Maintenance Needs
Thanks to the patina protecting them, zinc and copper gutters have fewer maintenance needs than other types of gutters. Keep in mind that low maintenance doesn't mean "no" maintenance. Even gutters made from zinc and gutter need routine maintenance. To keep them in good condition, you need to routinely remove leaves and debris from them.
The Benefits of Installing Gutter Guards 
The problem is not a lot of homeowners have the time for tedious but essential tasks like gutter cleaning. Fortunately, there are several ways to reduce your gutter's maintenance needs. One of them is to install gutter guards, which can prevent leaves, twigs, and other debris from entering and clogging your gutters. If you live in a cold climate, we also recommend installing heated gutter systems that prevent ice dams from forming in winter.
Gutter Helmet® is the only brand on the market with a Never Clean Your Gutters Again® guarantee. Its patented nose-forward design allows rainwater to flow to the drains while keeping debris out.
How Does Gutter Helmet Work? 
Gutter Helmet takes advantage of surface tension to direct the flow of water to your gutters. Surface tension happens when water molecules stick to each other because they have nowhere else to cling to. You can see the principle of surface tension in action when water in a glass gathers into a dome right before it spills over. When rainwater hits Gutter Helmet's textured-and-ribbed surface, water is directed to the gutter covers' patented nose-forward design, which allows water to enter the gutters while keeping leaves, twigs, and other kinds of debris out.
Suitability to Climate
No matter how durable your new gutters are, they won't last long if they can't handle your local climate. For instance, zinc gutters aren't the best choice if you live near the coast. That's because the high salt content in the air might stain zinc gutters. If these stains aren't removed, your gutters' lifespan may be reduced by as much as 40 years.
Here's a tip: to learn more about your gutter options, you can consult one of your local contractors. Since they're familiar with the local climate and building codes, they can make better recommendations.
What Are the Other Types of Gutters? 
Zinc and copper gutters are a bit on the pricey side, but they're worth the cost. But if you're looking for starting more affordable, here's an overview of some of your options:
Aluminum – There are several reasons why aluminum is the most widely used gutter material. Aluminum is lightweight, easy-to-install, corrosion-resistant and cost-effective. If you live in an area that frequently experiences heavy snowfall, we recommend installing aluminum gutters with .032- or .027-gauge thickness to make sure your new gutters can handle the extra weight load from snow.
Steel gutters – There are two varieties: galvanized and stainless steel. The former can resist corrosion for 20 to 25 years while the latter is completely resistant to rust.
Vinyl – Vinyl gutters are lightweight, corrosion-resistant and are the most affordable option on the market. However, they're not the most cost-effective option. That's because compared to zinc and copper gutters, they have shorter lifespans. Not to mention they become brittle in sub-zero temperatures and warp or sag in high temperatures, making vinyl gutters a poor choice for homes in temperate climates.
Ease of Installation
Compared to zinc and other materials, copper is harder to work with. This means copper gutters need additional soldering at the joints. That's why only experienced contractors should handle the installation of your new seamless gutters.
Vetting Tips
Always vet a contractor before hiring them. Here are some vetting tips:
Ask how long they've been in business – The number of years they've been working in the industry should give you a good idea of their level of expertise.
Check their online reviews – Keep in mind that a few negative reviews aren't necessarily a red flag. (Miscommunication happens sometimes, after all.) What you need to focus on is the contractor's response to online complaints. Did they take the time to respond to customer complaints? And if so, did they do it in a professional manner?
Limit your search to local contractors – To quickly narrow down your options, focus your search on local contractors. Hiring local contractors also has other advantages. For instance, local contractors have extensive local networks and are known for their personalized service.
Check their certifications – Certifications are proof a contractor has undergone stringent vetting by independent non-profits like the Better Business Bureau®.
The BBB Rating System 
The BBB is an independent non-profit that aims to achieve its goal of advancing marketplace trust through its rating system. The ratings (ranging from F to A+) gives customers an idea of the quality of service they can expect from a company.
What would it take for a company to receive an A+ rating? They would need to receive a total score of 97 out of 100, which requires a near-perfect score in all 13 categories used to calculate the ratings. (These factors include the number of complaints the BBB received about the contractor). As such, if you're working with a contractor with an A+ rating from the BBB, you can rest easy knowing your gutters will be installed correctly.
Barry Best Seamless Gutters, a company with an A+ rating with the BBB, offers professional gutter installation services and premium heated gutter systems.