The trees in your backyard provide shade and fresh air for your household. However, if you live in a windy area, planting too many trees near your home might cause a few problems for your gutters. During a wind storm, swinging tree limbs or wind-driven debris might leave dents or even dislodge your gutter system.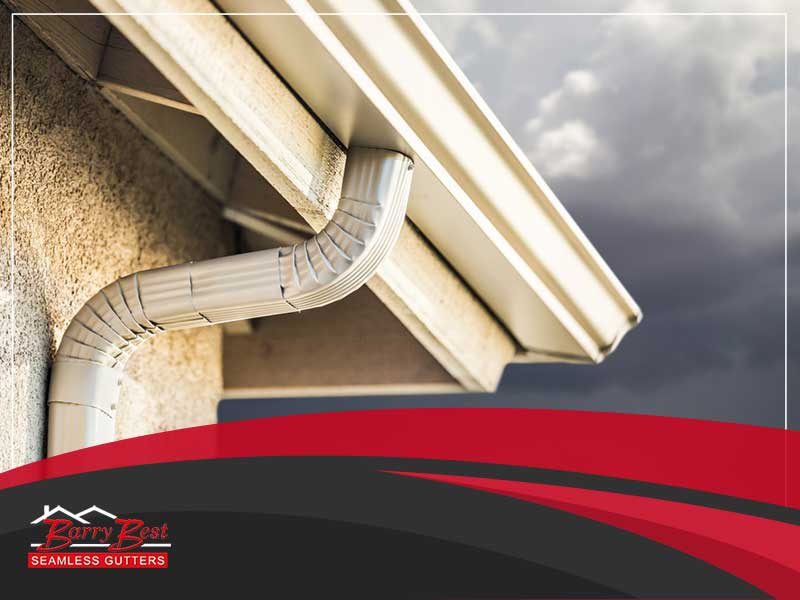 Barry Best Seamless Gutters, your trusted gutter installation contractor, shares tips on how to protect your gutters from wind damage below:
Make sure there is at least two feet of space between your home and trees in every direction – Plants and trees should be at least two feet away from your home to prevent long tree branches and debris from damaging your gutters.
Trim overhanging tree branches – Brittle tree branches are easily knocked down by strong winds. That's why they should be trimmed before they get knocked and damage your roof or gutter installation.
Check if your gutters have any cracks and if their brackets are loose – Your gutter installation should be able to withstand moderate winds, provided it was correctly installed. However, strong winds may move your gutters back and forth and loosen the gutter fasteners in the process. And over time, metal fatigue may start to set in as well. (Picture how a paperclip that's been bent too much starts to break.) Cracks in your gutters should be fixed immediately. Otherwise, they may weaken other parts of your gutter system.
Schedule routine gutter inspections – Keep in mind that some of the warning signs of wind damage are easy to miss. That's why it's important to have a professional contractor conduct routine gutter inspections. As a general rule, if there are a lot of trees near your home, your gutters should be cleaned and inspected every three months.
Why Install Gutter Guards?
Here's a tip: gutter guards are a smart investment if you want to reduce your gutter's maintenance needs. By preventing leaves and other debris from entering your gutters, they help reduce the frequency of gutter maintenance. Keep in mind that low maintenance doesn't mean "no" maintenance. That is except for Gutter Helmet®, the only gutter guards on the market with a Never Clean Your Gutters Again® guarantee. Heated gutter systems, which keep ice dams from forming near the edge of your roof, can also help reduce your gutter's maintenance needs in winter.
The Advantages of Switching to Seamless Gutters
There's also the option of replacing your old gutter system with seamless gutters. Since, as the name suggests, they don't have seams or gutter joints (which also happen to be a weak point of conventional gutter systems), you don't have to worry about leaves getting stuck between gutter joints.
Choosing the right type of gutter hanger – To make sure your gutters aren't easily dislodged by strong winds or wind-driven debris, you need to choose gutter hangers that are suited to the local climate and can provide enough support for your gutters.
Commonly Used Gutter Hangers
Here's an overview of the most commonly used gutter hangers:
Spikes and ferrules – Spikes and ferrules are affordable and easy to install. However, exposure to extreme temperatures may loosen them over time. Metal expands and contracts as temperatures rise and fall. As such, repeated expansions and contractions will eventually loosen spikes and ferrules over time. They're also not the best choice if you have a wooden fascia board (the long, straight board running along the lower edge of the roof). That's because the spike that's driven through the fascia board will split its wooden surface, which in turn increases the risk of moisture damage.
Brackets and straps – Brackets and straps (which are used to install half-round gutter) are a great choice for homeowners in rainy areas and temperate climates. Since this type of gutter hanger wraps itself around your gutters and is installed underneath your gutters, it can provide more support and is more resistant to temperature extremes. Cleaning gutters with brackets and straps is also trickier since this type of gutter hanger might be accidentally dislodged if you're not careful. That's why it's best to let professional contractors handle gutter maintenance.
Hidden hangers – Since hidden hangers are screwed to the fascia board from inside the gutter, they won't disrupt your home's exterior design. However, given that hidden hangers don't support the bottom of your gutters, the support they provide depends on the rigidity of your gutter system.
Important note: gutter hangers need to be adequately spaced. Otherwise, they won't be able to provide enough support for your gutters. As a general rule, should be spaced three feet or less next to each other or two feet apart to take into account additional weight load from snow and ice if you live in snowy areas.
Choose the right gutter material – No matter how durable your gutters are, they won't last long if they're made of materials not suited to the local climate. Remember: there's no such thing as a one-size-fits-all approach in home improvement projects, and gutter replacement projects are no exception.
Widely Used Gutter Materials
Here's an overview of the most widely used gutter materials:
Vinyl – Vinyl gutters are the most affordable option on the market, but they're not necessarily the most cost-effective. That's because they don't handle extreme temperatures well. Vinyl gutters become brittle in freezing temperatures and may suffer warping in high temperatures. Not to mention they can't handle weight loads for long.
Steel – There are two varieties of steel: galvanized steel (which can resist corrosion for 20 to 25 years) and stainless steel (which is completely rust-resistant).
Aluminum – Aluminum (which is also the most popular type of gutter material) is corrosion-resistant, lightweight, durable, and cost-effective. If you live in an area that receives heavy snowfall, we recommend installing aluminum gutters with .032- or .027-gauge thickness to make sure your new gutters will be able to handle the additional weight load from snow.
Zinc – If you're looking for a more durable alternative to aluminum gutters, you might want to consider zinc seamless gutters, which can last twice as long. The secret to zinc gutters' long lifespans is the patina (which forms over zinc after exposure to moisture and carbon dioxide) that protects them from the elements. Of course, zinc gutters are not without disadvantages. For one thing, they are a bit on the pricey side. However, given their exceptional durability, they are arguably worth the extra cost.
To learn more about your options, consult one of your local roofers. Since they're familiar with the local climate, they can make better recommendations.
Important note: if you're planning on installing seamless gutters, make sure to vet your contractor before hiring them. Here are some vetting tips to help you quickly narrow down your options:
Check their online reviews – Keep in mind that a few negative reviews aren't necessarily a red flag. Miscommunication happens sometimes, after all. If you come across a few bad reviews, what you need to focus on is the contractor's response to the complaint, which should indicate the level of customer service you can expect.
Ask how long they have been in business – The number of years they have been working in the industry should give you a good idea of their level of expertise.
Looking for experienced contractors near you?
Barry Best Seamless Gutters, a company with nearly three decades of experience, offers professional gutter installation services and quality heated gutter systems.