Ticking off the tasks on your home maintenance checklist can be very satisfying. However, you might not feel accomplished at all if you accidentally fall or get injured while doing some repair or yard work. Generally, the best way to ensure your safety during home maintenance work is to hire a professional. But whether you decide to carry out a few simpler tasks or to hire a contractor to do all the work for you, make sure that you're aware of some essential safety measures that should be observed when performing home maintenance work.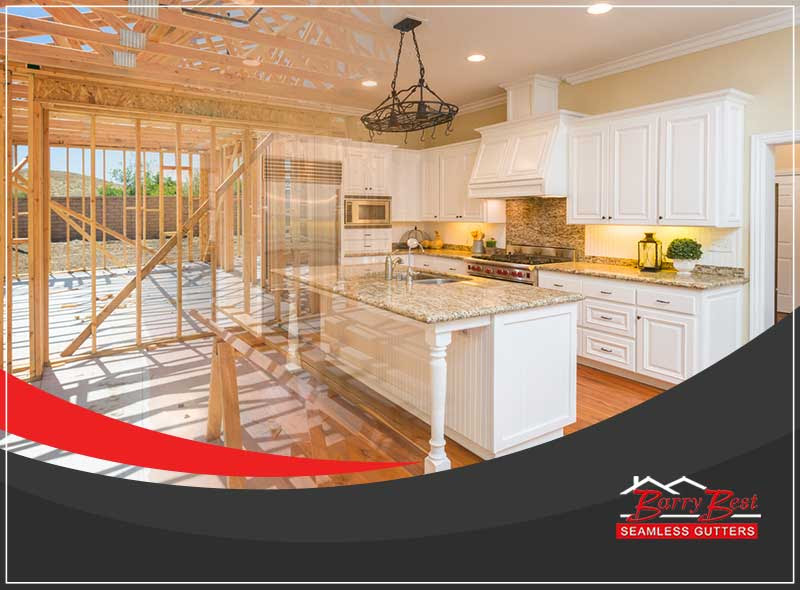 In this article, Barry Best Seamless Gutters shares some tips on how you can ensure people's safety during home maintenance.
Call a Professional
When deciding to call in a professional or not, some people might advise you to consider the size of your home since it's more hazardous to perform DIY jobs on larger, multistory homes than on smaller, single-story homes. Of course, this is a sensible and practical view of your situation. But apart from that, you should also take into account your confidence and experience in DIY-ing repairs or other home maintenance tasks. You may have a small home. But if you're not really comfortable doing DIY projects or you simply don't have the skills, you shouldn't force it just for the sake of saving money. In fact, if you do a job haphazardly or incorrectly, you might end up paying more later when a mistake in the work needs to be corrected.
Ponder on the complexity of the job too. For some people, gutter cleaning might be easy enough to be done by themselves. But if you're not used to climbing a ladder or working high up on a ladder, it's best to leave this job to professionals. Meanwhile, gutter installation or replacement typically requires more work, use of certain tools and movement of supplies — all of which you have to do while suspended high above the ground. So for your safety, call a trusted gutter contractor to do the job for you. Apart from keeping yourself safe, this would also give you peace of mind that your new gutter system will be installed properly and thus perform well and last a long time.
Remember that the quality of installation is crucial to the performance and durability of your gutters and downspouts. Any error during the installation process can lead to problems in the system as well as damage to your roof and foundation.
Use the Right Tools
Whether you're taking charge of your home's maintenance or hiring a pro, make sure that the right tools are used for every job. Furthermore, the tools should be used safely and correctly. Never use tools for things that they aren't designed to do because you could end up damaging the tool and your home or injuring yourself.
When using power equipment, make sure to keep the safety guards installed and always wear safety goggles when working with a power tool. Wearing safety goggles is also recommended when filing, sanding or doing any other tasks that produce flying particles. Your or your contractor's safety glasses should wrap around the sides to keep such particles from reaching your eyes.
Proper Tool Care
High-quality tools usually don't come cheap. So if you've decided to invest in a few of these, make sure that you care for them properly. For instance, store your tools in a place where it can't be reached by moisture. For metal parts, apply a thin coating of oil and wrap them in plastic wrap before you keep them in your toolbox. You can also opt to place carpenter's chalk or mothballs inside your toolbox since these can absorb moisture.
Ensure Ladder Safety
Whether you plan on learning DIY repairs or not, a sturdy step ladder can come in handy for various situations, so you might want to invest in one. For example, you can use a ladder to change lightbulbs, paint a room or replace a smoke alarm battery.
Typically, home-use ladders are made of either wood or aluminum. Both types can be easily found in a local store, and they are quite reliable. However, aluminum ladders may be more convenient since they weigh only 20-25% of wood. This makes aluminum ladders easier to take in and out of storage and to move around.
Below are some basic guidelines on how to use a ladder safely. Whether you intend to use your ladder for changing lightbulbs or cleaning your seamless gutters, try to keep these tips in mind.
Always face the ladder head-on, whether you're going up or coming down. Use both of your hands to hold onto the side rails or rungs.
Always open your step ladder to its fullest position. Don't forget to lock in the spreader braces on each side and pull down the bucket shelf.
Place the paint can or pail or whatnot on the bucket shelf before climbing the ladder. Never go up the ladder with tools in your hand or pockets.
If you will be working on a ladder in front of a door, make sure to lock the door.
To avoid overreaching and getting off-balance, don't let your navel go beyond either of the ladder's side rails.
Observe Safety Measures During Cleanup
Continue practicing safety guidelines during cleanup. Home repairs usually result in debris that needs to be cleared afterward. If you've hired a contractor to do the repairs, it's likely that they would be cleaning up the work site when they're done.
To give you an idea of how you can keep safe during a post-job cleanup, here are a few things that are worth taking note of:
If you're dealing with shattered glass with shards possibly scattered in your yard, wear thick-soled shoes and heavy-duty gloves when collecting the broken pieces. Bring a hard container, such as a bucket or paint can, with you. Place all the broken glass pieces here as you carefully collect them. If the ground is hard and dry, you can use a wet-dry vacuum to catch smaller pieces.
If your repairs involve nails, some of these would inevitably wind up in your landscaping. You can use a rolling magnet to easily collect these fallen nails. Contractors typically have these with them during cleanup. But if you've done the work yourself, you can opt to purchase or rent a rolling magnet to make cleanup more convenient and safer for you.
Home maintenance is a lot of work, so you should definitely have all the help that you can get to make things easier and to accomplish tasks faster. Barry Best Seamless Gutters can help with gutter installation and cleaning, and we can also provide you with quality gutter protection. We have been operating for more than 29 years, so you can be sure of receiving excellent services from us.
Our crew is made up of certified and knowledgeable installers who can do a superior job, whether they are working on seamless gutters or heated gutter systems. Rest assured that we only use high-quality materials and implement innovative procedures. That's why we can meet or even exceed the expectations of our clients. Call us at (315) 697-5000 or fill out our contact form to request a free estimate. We serve customers in Canastota and Syracuse, NY, as well as other surrounding areas.