Asphalt shingles remain a popular roofing option for different types of homes. The material is durable and versatile and it offers several benefits that make asphalt roofing a practical choice for various roof requirements. However, much like other roofing materials, there are a few common issues that you may encounter with asphalt shingles — one of which is shingle granule loss.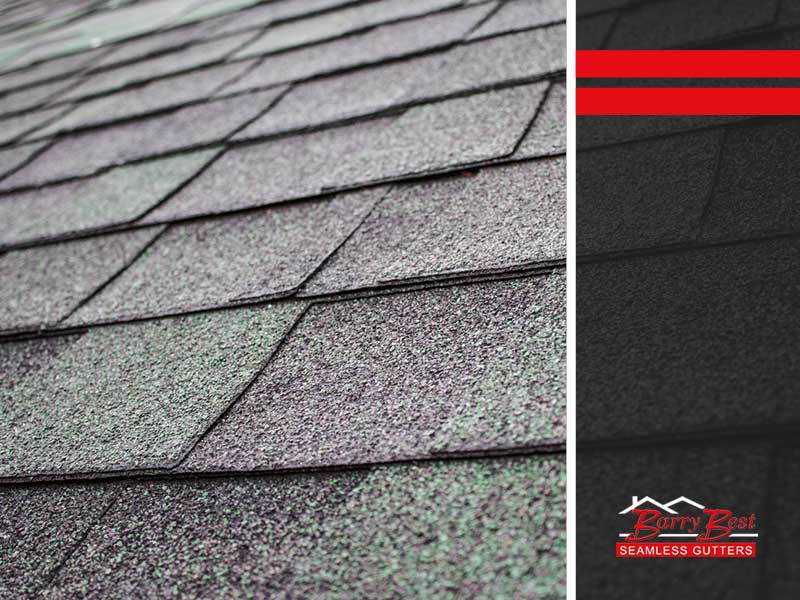 Granule loss typically happens as the roof ages or deteriorates. Keep in mind that roofs can last a long time, but regardless of material, they will eventually wear out. Generally, granule loss is an indicator of normal wear and tear. It can also occur in newly installed roofs, especially after a strong rain or wind activity.
In this article, gutter installation expert Barry Best Seamless Gutters offers more information about asphalt shingle granules. We also share a few tips on when you should be concerned about granule loss and how you can protect your roof and gutters from potential damage.
What Are Shingle Granules?
Asphalt shingles are typically made with an organic or fiberglass mat core, which is coated with layers of asphalt. Afterward, mineral granules are embedded into the hot asphalt as a final layer that gives the shingles their color and fire-resistant quality. These granules also protect the roof from the sun's UV rays, making the shingles more durable and longer-lasting. Furthermore, with an adequate amount of granules covering your shingles, your roof has a better chance of withstanding wind, rain, hail and other weather elements.
What Does It Mean if I Find Granules in My Gutters?
Over time, as your roof gets exposed to the elements, you will likely notice small amounts of granules coming off and getting washed into your downspouts. Don't worry because this is a normal part of roof aging. While the gradual loss of granules contributes to the eventual need of replacing your roof, a few granules here and there aren't a cause for concern. Even minimal granule loss after a storm shouldn't worry you. So if you see some granules after heavy rain or hail, this does not necessarily mean that your roof is failing.
Also, take note that your roof may also shed some granules even if it is new. Granules may come loose during packing, shipping and roof installation. And oftentimes, the granules that get dislodged in these occasions are just extra granules that did not get embedded during the manufacturing process. The shedding of these extra granules will eventually stop, so you don't need to worry.
When Should I Worry About Shingle Sediment?
While a few shingle granules are nothing to be worried about, it can be tricky to know when granule loss has already become excessive. But as a general rule of thumb, you should start being concerned about shingle sediment if it has accumulated to a thickness of about 0.5 inches to two inches.
You should also look into other factors such as the age of your roof and the condition of your roof and gutters. If your roof is approaching the end of its life span or if you're seeing large bald patches on your roof, you should call a roofer to have it checked and assessed.
Do I Need to Replace My Roof if Granules Are Found in the Gutters?
If your roof is new or has just been installed for a few years, losing some granules shouldn't worry you. But if your roof shingles have been shedding large amounts of granules over an extended time, you might want a local roofer to have a look at your roofing system. It's likely that your roof will need repairs or a full replacement.
You might also want to take extra caution if the roofing material is old and showing other signs of deterioration or damage. An old and decaying roof is very prone to leaks and more vulnerable to the impact of storms. You may even lose not just granules but actual roof shingles during heavy rain or strong winds. This could leave you in a difficult situation as other parts of your home could also be compromised. Remember that your roof provides crucial protection against the elements. That said, you should address any issues as soon as they are detected so that your roof can remain functional and last longer.
To know if it's time to call up your roofer, below are some of the signs that you should look out for along with excessive granule loss:
Sagging sections in your roof
Rusted flashings
Visible damage such as holes and cracked shingles
Bald spots on your roof
Missing or loose shingles
Damp or water-stained shingles
Soil erosion
How Can Shingle Granules Affect My Gutters?
As previously mentioned, a roof that is losing excessive amounts of granules can cause trouble for other parts of your home. Among those that can potentially be affected are your seamless gutters.
Shingle sediment usually ends up in the gutters, so there is always a possibility that the granules would clog them up along with other debris like leaves, twigs, etc. During a rain, clogged gutters could overflow, causing water to reach areas where you don't want to find it to pool — such as your lawn, basement and foundation.
Furthermore, the added weight of the shingle granules and stuck water inside your gutters could cause the gutter material to sag or the fasteners to become loose. This would require you to repair or replace your gutters, depending on the extent of damage.
How Can I Prevent Roof and Gutter Problems?
Regular inspections and proper maintenance are key to preventing roof and gutter problems. Routine checks can help you detect any problems at their early stages, helping you to avoid more serious issues. Typically in roof inspections, professionals are very thorough, so they will be able to catch even the less obvious signs of damage or deterioration. That said, they should be able to tell you if your roof has any bald patches, loose shingles or sagging areas. Roof inspections are highly recommended after a storm as well. So if your area has recently experienced a storm, don't forget to contact your trusted roofer so that you can ensure everything is OK with your roofing.
As for your gutters, it's best to have them cleaned regularly just like your roof. This way, your gutters can also be checked for warping or sagging. You might also want to consider adding gutter protection so that dirt and debris buildup can be avoided. Gutter covers can effectively prevent clogging and water back-ups from your gutter system. Lastly, make sure that your home drainage systems are in good condition.
Get a Free Quote Now!
Barry Best Seamless Gutters is a local contractor that specializes in seamless and heated gutter systems, Gutter Helmet and retractable awnings. We provide quality products and services to ensure customer satisfaction. With the procedures and techniques that we have developed over the years, you can rest assured that your project will be carried out to a high standard. Our workers are trained and experienced, and they will make sure that all your gutter requirements are met. Call us at (315) 697-5000 or fill out our contact form to request a free quote. We serve customers in Canastota and Syracuse, NY.