Mold and mildew both pose a health risk. The spores from these specific types of fungi can trigger allergies, aggravate respiratory conditions, and lower overall indoor air quality. And in winter, when you're spending more time indoors, it's important to ensure a certain level of air quality is maintained.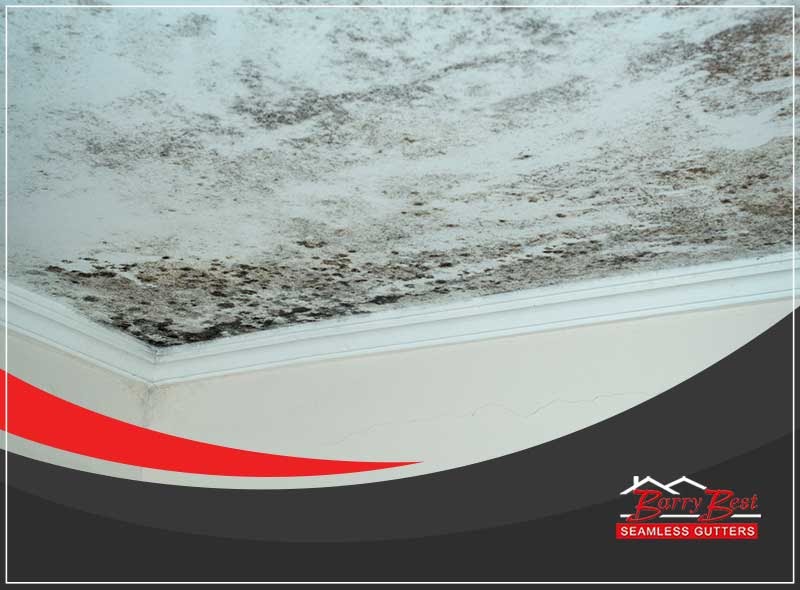 What are the ways to prevent mold and mildew growth in winter? Barry Best Seamless Gutters, your trusted gutter installation contractor, shares tips in this post.
Where Do Mold and Mildew Usually Form?
Mold thrives in warm, damp spaces with plenty of oxygen. Keep an eye out for irregularly shaped mold spots, which can be in different colors and may look fuzzy to the eye, on your ceiling and walls. Mildew has a powdery texture and is initially colored white, but eventually turns into yellow, black, or brown. Like mold, it also thrives in warm, damp spaces, but is often found on wet flat surfaces such as window sills and shower walls. A musty smell can also indicate the presence of mold and mildew.
Preventing Mold and Mildew Formation
What are the ways to prevent mold and mildew formation?
Lower Indoor Humidity Levels
Remember: mold and mildew thrive in dark, damp environments. That's why you need to keep indoor humidity levels under control, preferably below 40%.
Here are the ways to keep indoor humidity under control:
Turn on exhaust fans for 20 to 30 minutes in damp areas – Make sure to leave the exhaust fans in the kitchen while cooking or in the bathroom after taking a shower. Foggy bathroom mirrors are usually a sign there's too much humidity inside.
Dry wet areas immediately – Never leave spills unattended. They not only increase indoor humidity but also pose a safety risk. The same goes for soaked rags and towels: dry or remove them immediately.
Install a dehumidifier – There's also the option of installing a dehumidifier.
Keep Paper, Books and Clothing Away From Moisture
Avoid placing papers, books, and clothing near the walls or in humid areas like your basement to prevent mold from using them as a source of food. If you want to lower indoor humidity levels in your basement, you might want to consider getting a dehumidifier.
Have Your Plumbing Inspected
Water dripping from leaky plumbing can cause enough moisture to accumulate for mold and mildew to form.
Check Your Windows and Your Siding for Cracks
Water and cold air can infiltrate your home through cracks in the window glass or siding. Here's a tip for inspecting your windows for leaks: light an incense stick near your windows. Incense should start flowing to or lingering near the source of the leak.
Make Sure Your Roof or Attic Is Well-Ventilated
Without adequate roof insulation, warm, humid air won't be able to exit your roof or attic, creating a damp environment that's the perfect breeding ground for mold and mildew. How much ventilation does your roof or attic need? As a rule of thumb, there should be a square foot of net free area (NFA)—the area through which air can pass—every 500 square feet of floor area for attics with a vapor barrier. Attics without a vapor barrier, on the other hand, will need a square foot of NFA for every 150 square feet of attic floor space.
Important note: Keep in mind that having more roof or attic ventilation isn't necessarily better. The airflow in your roof and attic need to be balanced, which means the amount of ventilation space dedicated to air intake must be equal to the space dedicated for air exhaust. That's why it's best to have a roof or gutter installation contractor inspect your roof or attic's insulation.
Ensure Your Roof and Attic Have Enough Insulation
Remember: insulation and ventilation go hand in hand. If there are gaps in the insulation, warm air—which can hold more moisture than cold air—may reach your roof or attic and form condensation on the roof framing.
Ice Dams and Inadequate Roof and Attic Ventilation
It's best to have a roofer inspect your roof to check if it has enough insulation. However, there are signs that can tell you there's inadequate ventilation in your roof or attic. One of them is ice dams. Ice dams form on the edges of your roof when water—which comes from the snow melted by a warm roof surface —reaches the colder sections of the roof and freezes, depositing ice on the edges of your roof. Ice dams are a problem because they prevent water from reaching your gutters, increasing the risk of leaks.
Aside from ensuring your roof has enough insulation, what are the other ways to prevent ice dams? If you live in a cold climate, heated gutter systems would be a smart investment. As the name suggests, it increases the temperature of your gutters to prevent ice from forming on your gutters.
Barry Best offers Helmet Heat® heated gutter systems. It's equipped with a self-regulating cable that ensures gutters are warm enough to prevent icicles from forming but not too warm that it becomes hot to the touch.
Routine Roof Maintenance
Roof leaks are usually the main culprit behind mold damage. If water manages to infiltrate your roof's underlayers through gaps on its surface, mold and mildew might form. It's important to have roof leaks fixed as soon as possible. That's because mold and moisture roof damage can easily affect other parts of your home.
Regular Gutter Maintenance
Gutters form part of your roof's first line of defense against moisture damage. By diverting water away from your roof and towards the drains, your gutters help prevent roof leaks and other forms of moisture damage. However, if leaves, twigs, and other debris are hampering the flow of water, it might spill onto your roof and increase the risk of leaks. That's why it's important to regularly clean your gutter system.
Reducing Your Gutter's Maintenance Needs
Seamless gutters have fewer maintenance needs than conventional gutters because, as the name suggests, they don't have any seams. Leaves twigs and other debris can get stuck in seams or gutter joints, making it harder to clean your gutters.
If you just don't have the time for chores like cleaning your gutters or want gutter cleaning to be more convenient, gutter guards would be a smart investment. They prevent debris from entering your gutters, reducing its maintenance needs. Keep in mind they can only reduce, not eliminate, your gutter's maintenance needs. That is except for Gutter Helmet®, the only gutter guards on the market with a Never Clean Your Gutters Again® guarantee.
How does Gutter Helmet allow water to enter while keeping leaves and other debris out of your gutters? Through surface tension—the principle you see in action when n water in a glass gathers into a dome right before it spills over—and its patented nose-forward design. Gutter Helmet takes advantage of the principle of surface tension to divert rainwater to your gutters the moment it hits the gutter guard's textured-and-ribbed surface. And thanks to its nose-forward design, leaves, twigs, and other debris don't enter your gutters.
Gutter Helmet is also fully compatible with Helmet Heat heated gutter systems. Helmet Heat is hidden under the Gutter Helmet gutter guards, so it won't disrupt your home's exterior design.
Want to learn more about Gutter Helmet and Helmet Heat's premium features?
Barry Best Seamless Gutters has nearly three decades of experience in the industry. We offer premium Gutter Helmet gutter guards, Helmet heating systems, and seamless gutters.