Your gutters help protect your roof from moisture damage by diverting water to the drains. However, if parts of your gutter system were not installed correctly, water might start to leak behind your gutters.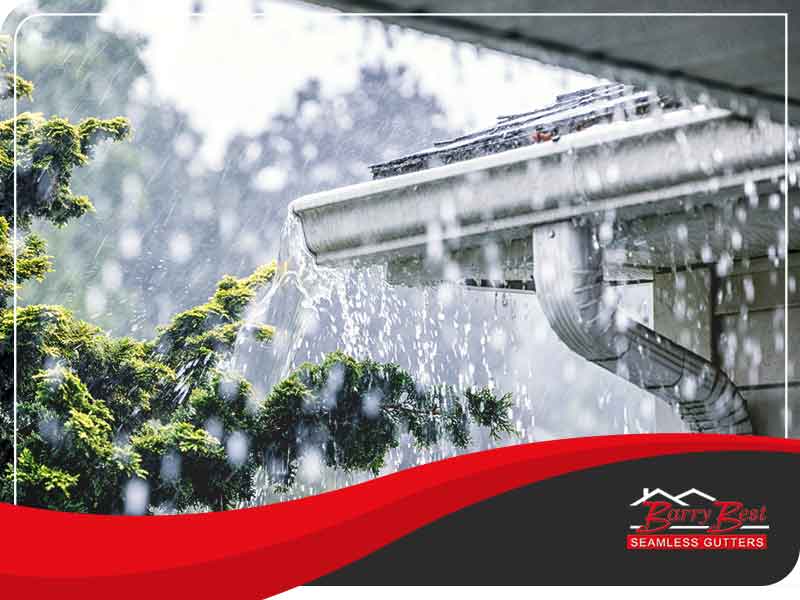 Barry Best Seamless Gutters, your trusted gutter installation company, elaborates more on the usual culprits behind water leaking behind your gutters and their corresponding fixes below:
Rotten fascia board – Your gutters are attached to the fascia board (the long, straight board running along your roof's lower edges). However, if you have a wooden fascia board and it was damaged by rot (which robs wood of its trademark rigidity by breaking down the cellulose in wood's structure), your gutter's fasteners might start to loosen. This in turn may cause sections of the gutters to sag and alter your gutter's pitch, which will ultimately result in water overflowing out of your gutters.
Gutter hangers not suited to the local climate – Certain gutter hangers are vulnerable to thermal movement (repeated expansions and contractions brought about by abrupt changes in temperature that can loosen gutter hangers). That's why it's important to choose a type of gutter hanger that can handle your local climate.
An Overview of Widely Used Gutter Hanger Types
Here's an overview of the most widely used gutter hangers:
Spikes and ferrules – Spikes and ferrules, which as the name suggests consist of a metal tube or ferrule fastened to the fascia board, isn't the best choice if you live in a temperate climate or have a wooden fascia board. That's because metal expands and contracts as temperatures rise and fall and as such this type of gutter hanger may loosen over time. The spike driven through the fascia board also splits the surface of the wooden fascia board, making it more vulnerable to rot and other forms of moisture damage.
Brackets and straps – Brackets and straps, which are used to install half-round gutters, are a great choice if your area receives a high amount of rainfall. This type of gutter hanger can provide more support because it wraps itself around your gutter system.
Hidden hangers – Hidden hangers are screwed to the fascia board from inside your gutters, so you don't have to worry about it affecting your home's exterior design. However, since the hidden hangers don't support the bottom of your gutters, the support they can provide is dependent on the rigidity of your gutters. To learn more about your options, consult a local gutter installation contractor. Since they are more familiar with the local climate and building codes, they can make better recommendations.
Important note: for the gutter hangers to do their job, they need to be adequately spaced. In general, gutter hangers should be spaced three feet or less next to each other. However, if your area receives a lot of snow in winter, we recommend spacing the gutter hangers two feet apart to make sure your gutters are able to handle the additional weight load from snow.
Clogged gutters – Your gutter installation protects your roof from moisture damage by diverting rainwater to the drains. However, it won't be able to do its job if leaves and debris prevent water from draining away. If your gutters are clogged, rainwater will eventually overflow. That's why routine gutter cleaning and maintenance is a must.
How Often Should You Have Your Gutters Cleaned or Inspected?
In general, you should have your gutters cleaned and inspected at least twice every year, ideally in late spring and fall. However, if there's a lot of foliage near your home, you may need to have your gutters cleaned more frequently. We recommend having it cleaned every three months.
Here's a tip: you can reduce your gutter's maintenance needs by installing gutter guards, which prevent leaves and other kinds of debris from entering and clogging your gutters. Keep in mind the low maintenance doesn't mean "no" maintenance. That is except for Gutter Helmet®, the only brand on the market with a Never Clean Your Gutters Again® guarantee.
What makes Gutter Helmet different from gutter guards? Gutter Helmet has a textured-and-ribbed surface that slows the flow and spread of rainwater and a patented nose-forward design, which has no vertical openings to keep leaves, twigs, and other kinds of debris out of your gutters.
What Are the Other Ways of Reducing Your Gutter's Maintenance Needs?
Another way of reducing your gutter's maintenance needs (which will inevitably increase in winter) is to install heated gutter systems that prevent ice dams from forming near the edges of your roof. However, the problem with installing heat cables is that they might become hot to the touch. To prevent overheating gutters, you can install self-regulating heated gutter systems, like Helmet Heat®. As the name suggests, self-regulating heating cables automatically adjust your gutters' temperature according to the temperature of your roof.
If you're planning on replacing your gutters, you might want to consider installing seamless gutters. The problem with conventional gutters is that leaves and other debris can easily get stuck between the gutter sections, making it harder to clean your gutters. Since, as the name suggests, seamless gutters don't have any seams, there's no need to worry about leaves getting stuck in between joints. Another advantage of installing seamless gutters is that they are less leak-prone than conventional gutters. Seams are often considered as a weak point. Without them, your gutters are less vulnerable to damage.
Here's a tip: to maximize the returns on investment on your new seamless gutters, look for gutters that come with strong warranties. Our custom US-made seamless gutters come with a 20-year manufacturer's warranty that covers labor and installation.
Incorrectly installed drip edge and shingles – The drip edge is a piece of L-shaped metal flashing installed near the edge of your roof. It's the component that's responsible for making sure water doesn't reach your fascia board. However, for the drip edge to do its job, the shingles need to extend past the drip edge. Otherwise, rainwater may leak behind your gutters. To prevent installation errors, you should only hire qualified contractors to handle your gutter installation.
Vetting Contractors
Always vet contractors before hiring them to make sure they are qualified for the job. To help you find a contractor who can meet your needs, here are some vetting tips:
Hire local – To quickly narrow down your options, limit your search to contractors near your area. Hiring local also has other advantages. In addition to local contractors' familiarity with the local climate and building codes, they are also known for their personalized service.
Check a contractor's online reviews – A contractor's online reviews should give you a good idea of the kind of service you can expect from them. Keep in mind that a few negative reviews are not necessarily a red flag. After all, miscommunication happens sometimes. What you need to focus on is the contractor's response to online complaints. Did they take the time to post a response? And if so, was it courteous and respectful in tone?
Ask how long they have been in business – The number of years a contractor has been in business should give you a good idea of their expertise.
Looking for experienced gutter contractors near you?
Barry Best Seamless Gutters, a contractor with nearly three decades of experience, offers a wide range of professional gutter installation services as well as quality seamless gutters and heated gutter systems. To get a free estimate, call us at (315) 697-5000 or fill out this form. We serve homeowners in Syracuse and Canastota as well as the surrounding NY communities.