Retractable Screens
A Custom Solar Shade Offers Comfort & Privacy
At Barry Best Seamless Gutters, we install custom solar shades that are a great complement to many outdoor structures, including pergolas and lanais. By having a retractable screen installed, you can get more enjoyment from your outdoor living space because you get control of your environment. Don't allow the sun's heat, pesky insects, prying eyes or a stiff breeze to interfere with your relaxation. Sunesta® retractable screens turn your open space into an enclosed space with the push of a button or the turn of a handle.
There are multiple ways to customize a Sunesta solar shade.
Choose from different fabric colors and patterns.
Choose from varying levels of opacity and bug protection, depending on the fabric.
Select manual or motorized operation.
Choose clear window inserts for protection from the rain and cold without compromising your view.
Enjoy comprehensive warranty coverage on all components.
The Sentry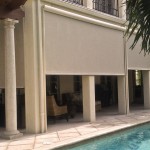 The Sentry retractable screen offers exceptional quality, reliability and ease of use. This custom screen can fit spaces up to 18 feet wide with a 12-foot drop. Available in Sunesta's huge selection of 150+ fabric styles, a Sentry roll-up solar shade is perfect whether you want shade, protection from inclement weather, privacy or a combination of all three.
The Sunroll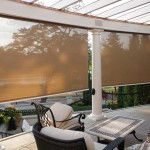 Get the freedom to enjoy your backyard fully by installing a Sunroll privacy screen in your space. Available in both motorized and manual operation and in sizes up to 24 feet wide and 12 feet tall, the Sunroll is the perfect complement to any patio area and can be customized to fit your unique space.
Get a Free Retractable Screen Quote
Get more from your outdoor living space with a Sunesta retractable screen. For a free estimate, call Barry Best Seamless Gutters at (315) 697-5000 or submit our online form.