Gutter maintenance and repair are not the most exotic home improvement projects, but they are still critical. Your gutters play a vital role in your home's protection from water damage. Gutters that are old and worn down or clogged with debris cannot be depended upon to channel rainwater away from your property. This puts your home in danger of serious water damage. Water that backs up in clogged gutters can also saturate the ground around your home, even seeping into your home's foundation and causing structural issues. For all these reasons, it pays to stay on top of gutter maintenance.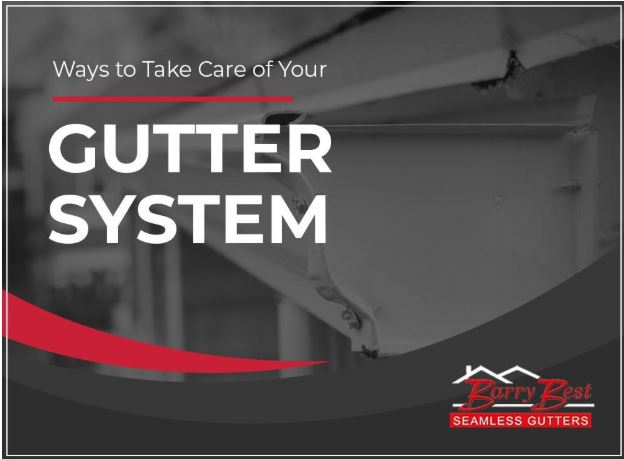 Having Your Gutters Regularly Inspected
Your gutters are exposed to the elements day in and day out, which takes a toll. Unfortunately, gutters tend to be an afterthought for many homeowners. Until there's a very obvious problem, most homeowners don't worry too much about the state of their gutters. This is bad news because repairing minor problems is a lot easier than dealing with widespread damage. To stay ahead of gutter problems, it's  a good idea inspect your gutters on a routine basis. Watch out for the following:
Any cracks that can prevent rainwater from being channeled away, which can compromise your home and expose it to water damage.
Are your gutters beginning  to pull away from your house or are they on the verge of collapsing? Get timely repairs done to protect your home.
If you're seeing any rust in your gutters, there's a huge probability that water is backing up into your system. Check for water intrusion in your soffit and fascia, which can cause damage.
Are there dips and valleys in your gutters that may be causing rainwater to pool? Is there debris gathering in that pooling water that can give rise to health concerns? If so, these issues need to be addressed promptly to prevent the damage from worsening.
Another typical sign of damage that may call for immediate gutter replacement is chipped or flaking paint. If you see any such signs, you need to arrange for repairs right away.
Realistically, gutter cleaning and maintenance are tasks that no homeowner relishes. That's why many homeowners choose to leave this task in the hands of professionals. A big advantage of leaving the care of your gutters to the pros is that they have the skills and training to spot potential problems before they even become an issue. This helps ensure that your system is always able to function under optimal conditions and that your most precious investment–your home–remains safe and sound. Apart from regularly scheduled inspections, you should also have your system inspected after bad weather hits your area. This will allow any budding issues to be resolved right away, so that major repairs can be prevented.
Maintenance and Gutter Protection
Why wait for problems to show up before addressing them? An ounce of prevention is better than a pound of cure, after all, and this is certainly true of roofing and gutters. Don't wait for problems to manifest — instead be proactive, as this will save you time and money in the long run.
While twice-a-year gutter maintenance schedule (once in the fall and once again in the spring) should be sufficient, it's always a good idea to give your gutters an extra little bit of attention when after a particularly heavy rain-, hail- or snowstorm. One fantastic way to keep your gutters from undue damage is to spring for a reliable gutter protection system, which can easily be installed on your gutters.
Worry-free gutter protection systems can help make maintenance a non-issue for homeowners. A high-quality gutter protection system can easily filter leaves and other solid objects away from your gutters, allowing rainwater to flow freely into the downspouts. This takes the burden of maintenance off the homeowner.
A gutter protection system is useful in a number of ways:
1. Protects your home's structural integrity
A gutter guard system helps your gutters channel water away more effectively. It helps prevent gutter clogs, which can cause water to overflow over the side of your home, saturating the ground around your home, and damaging your home's foundation.
2. Prevents flooding
Say goodbye to the accumulation of debris in your gutters that can hinder water flow. No blockages, no overspill, no flooding. Problems solved!
3. Helps maintain a healthier home
Mold and mildew will never be an issue if a home is dry. Moisture is not an issue when you've got a good gutter protection system in place.
Feel the Heat
Ice dams are another concern when it comes to gutter protection. When snowmelt freezes at the eaves of roofs and turns into ice, the weight of it can cause your gutters to separate from their attachments, damaging the roofing system.
A heated gutter ice reduction system installed onto your gutters helps prevent this issue. Designed to thaw snow before it turns to solid ice, the Helmet Heat® system is the most reliable product for preventing the buildup of ice and snow on your roof and gutters. Self-regulating, Helmet Heat will warm up just enough to effectively melt ice. Its sleek appearance is retained even as it protects your roof and gutters from ice dams.
Why allow gutter maintenance and regular upkeep to become an unpleasant chore? Invest in a high-quality gutter protection system and never worry about it again.