Gutters can only perform properly if they're clog-free. The best way to keep debris such as leaves, pine needles, twigs, and dirt from entering your gutters and clogging them is to invest in proper gutter covers. Without gutter covers, you need to be extremely proactive about cleaning your gutters, which is a time-consuming and hazardous task that many homeowners tend to put off.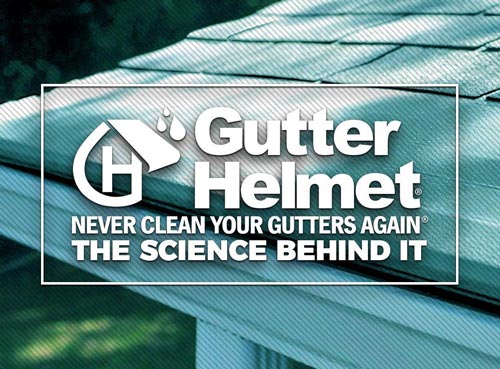 Being such an exposed component of your roofing system, gutters are inherently vulnerable to debris accumulation. The only way to keep pesky clogs at bay is to constantly clear your gutters on your own. This is time consuming, tedious, and hazardous, as it involves climbing a ladder onto your roof. That's why it's better to invest in a gutter protection system.
The Wonders of Gutter Helmet®
With Gutter Helmet, you won't ever have to clean your gutters again. Gutter Helmet is the country's leading gutter protection system. Other gutter guards cannot provide the total protection Gutter Helmet delivers. Gutter Helmet's unique nose-forward design allows water to flow smoothly into your gutters, while leaves and other debris fall off the side of the roof.
The Science Behind Gutter Helmet
Through the simple yet effective principle of surface tension, Gutter Helmet allows rainwater to follow its natural trajectory as it flows through your system. The nose-forward design then directs water into your gutter system, which channels it away from your home.
Don't let clogged gutters cause trouble. By investing in a proper gutter system today, you ensure that water flows away from your home where it can't do any damage to your property.
Barry Best Seamless Gutters your top source of dependable gutter protection systems, including Gutter Helmet. Our service area includes Fayetteville, Hamilton, and Syracuse, NY. Call us now at (315) 697-5000 to get a free estimate.