In part one of this two-part blog post, we discussed the dangers of clogged gutters. Today we will explain how our gutter protection product is the solution to these problems. Gutter Helmet® is the country's number one choice for gutter protection because of its proven track record and excellent design. It can effectively prevent gutter clogs no matter the weather. Barry Best Seamless Gutters discusses how: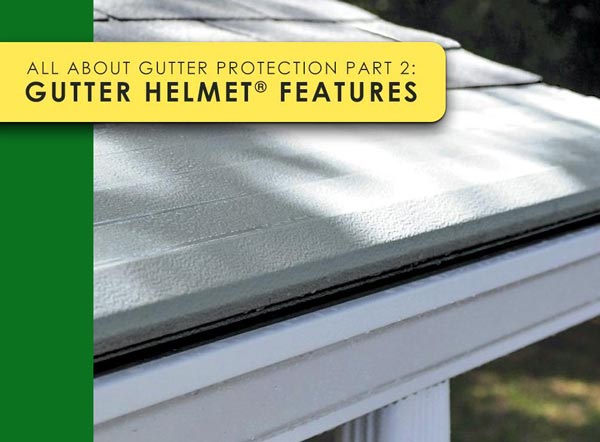 How Gutter Helmet Protects Your Gutters
Gutter Helmet protects your home from the dangers of clogged gutters by making sure that your gutters won't get clogged in the first place. This product completely covers your gutter system and it has no vertical openings. Leaves, pine needles, and other debris have no way of entering your gutters so they will simply fall to the ground when it rains. Water, however, will stick to Gutter Helmet's surface and flow directly into your gutters thanks to surface tension.
Imagine placing a glass sideways over a running tap. When you do that, water will flow and follow the curve of the glass. Gutter Helmet works much the same way. It has a textured surface and patented nose-forward design that maximizes the effect of surface tension. Rain will cling to its surface, curve over your roof edge, and enter the small 3/8" horizontal opening. This design is incredibly effective, allowing our product to withstand up to 22 inches of rain per hour. It's one of the best gutter guards ever manufactured.
Gutter Helmet Features
Gutter Helmet also has plenty of other features. We install this product over reinforced aluminum alloy brackets. This strengthens and supports your gutter system, allowing it to handle strong rains and winds. Gutter Helmet also features a PermaLife™ Finish that won't fade, chalk, crack, peel, or chip. It will stay beautiful for the lifetime of the product. The finish also comes in a variety of colors, allowing Gutter Helmet to match any kind of roof.
Gutter Helmet is one of the best gutter covers on the market today and it will make an excellent addition to your home. It will improve the performance of your gutters, reduce their maintenance requirements, and protect your home from water damage. Barry Best Seamless Gutters serves many areas in NY including Hamilton, Fayetteville, and Syracuse. Call us at (315) 697-5000 to learn more about Gutter Helmet. You can also ask for a free quote.