As a top gutter contractor, Barry Best Seamless Gutters highly recommends investing in our gutter protection system: Gutter Helmet®. Our product can make gutter clogs and excessive gutter cleaning a thing of the past. It can effectively prevent debris from entering your gutters and forming leaks. This greatly decreases the risk of water damaging your home. In this two-part blog post, we will discuss everything you need to know about gutter protection. First, we'll talk about the dangers of clogged gutters.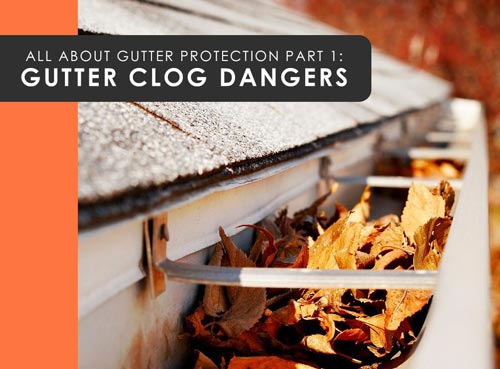 Cracked Foundation – Clogged gutters will overflow during a rainstorm. This leads to water saturating the soil surrounding your foundation. This creates tremendous pressure on the sides of your home and it can cause cracks to form, damaging your foundation. The influx of water can also cause mold growth in this area.
Fascia Damage – Many fascia boards are manufactured from wood. When your gutters clog and overflow, some of the water reaches the fascia and causes it to deteriorate and rot. In addition, overflowing gutters can damage your wood siding. As a leading gutters expert, we highly recommend removing your gutter clogs before water causes the wooden parts of your home to rot.
Ruined Landscape – Rampant rainfall and overflowing gutters can also damage and ruin your landscape. The rain might cause soil to erode or damage small plants and flowers. The rain can also cause mud puddles to form, making your yard look unsightly. Too much water can also damage certain kinds of plants.
Our seamless gutters and gutter protection system will protect your home from gutter clogs, gutter leaks, and their associated water damage. Barry Best Seamless Gutters has nearly two decades of experience. Our procedures and techniques have developed through the years as well, and we'll use them to provide you with a quick and stress-free gutter installation. We serve many areas in NY including DeWitt, Syracuse, and Manlius. Call us at (315) 697-5000 to learn more about clogged gutters. You can also ask for a free quote.
You can also check out part two of this post, where we will discuss how Gutter Helmet can prevent all of these problems.