Wet insulation is always a cause for concern. It not only lowers indoor comfort and raises heating costs, but also poses a health risk. Barry Best Seamless Gutters, your trusted gutter and retractable awnings contractor, explains how and shares tips on how to keep your insulation dry in this guide.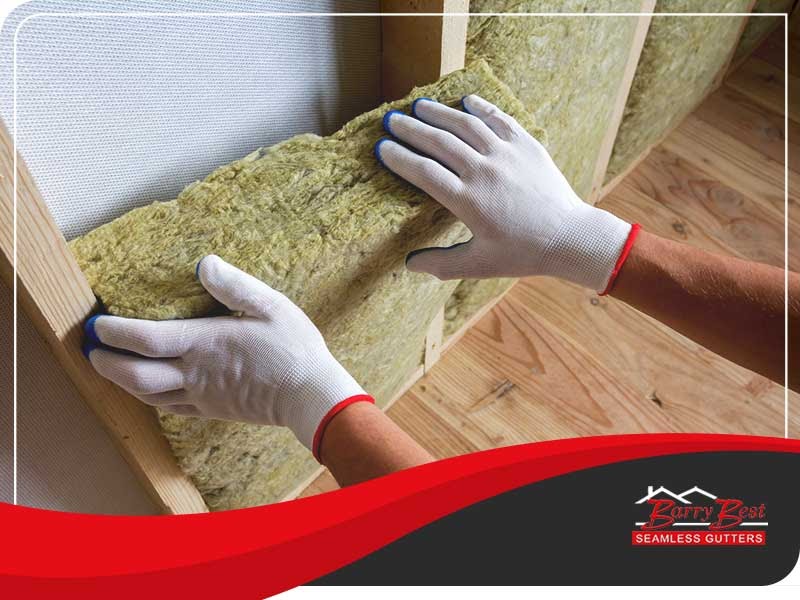 Why Wet Insulation Is Bad For Your Home and Its Occupants
Here are the reasons why wet insulation is a problem:
Lower R-value – Your insulation's R-value indicates its ability to prevent heat transfer. The higher the R-value, the better a material's thermal resistance.
Wet insulation loses up to 40% of its R-value when exposed to moisture, increasing your heating and cooling costs and lowering overall indoor comfort.
Mold growth – Dust particles, along with microscopic mold spores, can become trapped in the insulation. If roof insulation is saturated with water, it transfers moisture to the attic and to the ceiling drywall below, creating a damp environment that's the perfect breeding ground for mold. Left unattended, mold can easily affect other parts of your home.
Structural damage – Trapped moisture in your roof insulation can slowly damage the roof.
The Usual Culprits Behind Damp Insulation
What are the usual culprits behind damp roof insulation?
Roof leaks – Roof leaks are the usual culprit behind damp insulation. Gaps on the roof's surface serve as an entry point for water to infiltrate your roof's underlayers, including its insulation.
Air gaps – Cold air can infiltrate your siding through gaps in your exterior and siding. When cold air enters a warm environment, it condenses into dewdrops on your insulation, lowering its R-value.
Inadequate roof ventilation – Without adequate roof ventilation, warm, humid air won't be able to exit your roof and attic. If air can't circulate freely, condensation that forms on the framing may drip onto the floor and seep into the wall spaces and insulation.
Uninsulated plumbing – Condensation can also form on uninsulated plumbing and drip onto the insulation.
Plumbing leaks – Water dripping from leaky plumbing can also dampen insulation and reduce its R-value. In particular, you need to keep an eye on upstairs plumbing. The water dripping from leaky toilets or faulty shower drains could be responsible for damp insulation.
Warning Signs Your Insulation Lost Some of Its R-Value
How can you tell if water has managed to infiltrate insulation or that it isn't working properly? Keep an eye out for these warning signs:
Higher heating costs – Notice a consistent spike in your heating bills? Your insulation may have lost some of its R-value thanks to water infiltrating your home. Keep in mind that higher heating and cooling costs may also be a sign of insufficient insulation. In general, your attic should have about six inches of insulation.
Hot and cold spots – Uneven indoor temperatures are either a sign there's not enough insulation in certain parts of your home or moisture has infiltrated parts of the insulation.
Ice dams – If there are gaps in the attic insulation or its ability to prevent heat transfer has been compromised, warm air from the lower floors may reach your roof and melt the snow that's accumulated on top of it. The melted snow then slides down towards the edge of your roof. And as it approaches the colder sections of your roof, the melted snow starts to freeze again, depositing ice on the edges of your roof and forming ice dams.
Preventing Ice Dams
Like wet insulation, ice dams are a cause for concern. They can prevent water from flowing to the gutters, increasing the risk of roof leaks and wet insulation. One way of preventing ice dams from forming on your roof is to install a heated gutter system. As the name suggests, heated gutter systems increase the temperature of your gutters to prevent ice blockages and dams. If you're installing a heated gutter system, you might want to consider Helmet Heat, which has a self-regulating heating cable that ensures your gutters aren't hot to the touch. To learn more about
Keeping Your Insulation Dry
Here are the ways you can keep insulation dry:
Routine roof maintenance – Through routine roof maintenance, roof and awnings contractors can detect leaks and reinforce weak points in your roof before water manages to infiltrate your roof.
Ensure your roof and attic are well-ventilated – Remember: insulation and ventilation always go hand in hand. If there are gaps in attic insulation, cold air can enter your home, condense in the warm attic, and reduce your insulation's capability to prevent heat transfer. Adequate roof and attic ventilation make sure humid air exits your home and doesn't affect its insulation.
How much ventilation do your roof and attic need? Keep in mind more roof ventilation isn't necessarily better. Maintaining a balanced airflow in the roof and attic is essential to ensuring there's enough ventilation—the amount of space dedicated to air intake must be the same as the space dedicated for air exhaust. As a rule of thumb, there should be a square foot of net free area (NFA)—the area through which air can pass—every 500 square feet of floor area for attics with a vapor barrier. Attics without a vapor barrier, on the other hand, will need a square foot of NFA for every 150 square feet of attic floor space.
Installing retractable awnings – Awnings protect door casings, doors, and window frames from moisture damage. And in warmer weather, they can shield you from harsh ultraviolet rays.
Routine gutter maintenance – Organic debris that's accumulated in your gutters prevent water from flowing to the drains and increase the risk of roof leaks. Not to mention the added weight load can cause sections of your gutters to pull away from each other. That's why it's important to keep gutters free of clogs and other debris.
Prevent Gutter Leaks
How do you prevent gutter leaks?
Install seamless gutters – Seams or joints are the weak points of gutter and roofing systems. Since, as the name suggests, seamless gutters don't have seams, they're less prone to leaks than conventional gutter systems. To make sure they're installed properly, only qualified gutter or retractable awning installation contractors should handle their installation.
Install gutter guards – Don't have the time for chores like gutter cleaning? Or do you want to reduce your gutter system's maintenance needs? Gutter guards prevent leaves and other debris from entering and clogging your gutters, reducing their maintenance needs. Keep in mind gutter guards can only reduce, not eliminate, your gutter's maintenance needs. That is except for Gutter Helmet®, the only gutter guards on the market with a Never Clean Your Gutters Again® guarantee.
How Gutter Helmet® Works
How does Gutter Helmet allow water to enter while keeping leaves and other debris out of your gutters? Through surface tension—the principle you see in action when n water in a glass gathers into a dome right before it spills over—and its patented nose-forward design. Gutter Helmet takes advantage of the principle of surface tension to divert rainwater to your gutters the moment it hits the gutter guard's textured-and-ribbed surface. And thanks to its nose-forward design, leaves, twigs, and other debris don't enter your gutters. Combined with awnings, Gutter Helmet helps protect your exterior from moisture damage.
Gutter Helmet is also fully compatible with Helmet Heat. Helmet Heat can be hidden from view under the Gutter Helmet gutter guards, so you don't have to worry about heating cables disrupting your home's exterior design.
Want to learn more about Gutter Helmet and Helmet Heat's premium features?
Barry Best Seamless Gutters has nearly three decades of experience in the industry. We offer professional gutter and retractable awning installation services.