When it comes to choosing gutters for your building, you'll be faced with the decision of whether to pick a sectional or seamless gutter system. As your trusted gutter guards provider, we always recommend the seamless type because of its excellent strength and performance. Here's how it will benefit you and your business: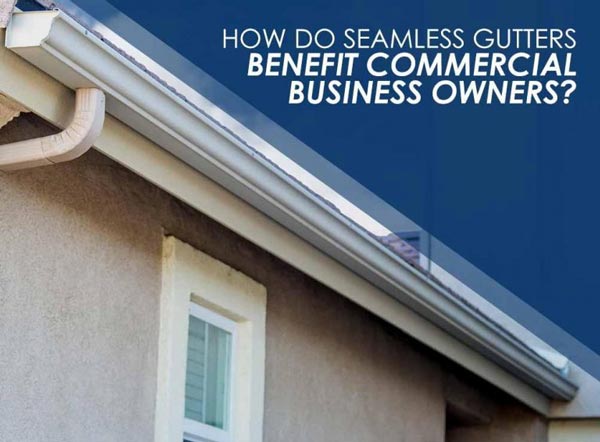 Precise Fit
While sectional gutters are easy to install, they are more likely to develop problems in the long run. This is because the sealant that connects the pieces of metal together can wear away over time. On the other hand, seamless gutters are custom-made to flawlessly fit your building's specifications. Furthermore, they require professional installation. This ensures that your new gutters will perform at their best through the years to safeguard your property against water damage.
Less Maintenance
Sectional gutters have more seams, which makes them more prone to debris buildup. They need frequent cleaning so that water can flow freely into the downspouts. Meanwhile, seamless gutters provide a straight line of metal from one end to the other. There are low chances for clogs and leaks since they only have joints at the corners and where the gutters meet the downspouts.
For optimal efficiency, our commercial seamless gutters are six inches wide to manage large volumes of water. We also install advanced gutter covers to block debris out of the system. This reduces your repair and maintenance costs for decades.
Aesthetic Appeal
Aside from protection, seamless gutters also increase your building's curb appeal. They can seamlessly blend with your building's roofline thanks to their uniform look. They are available in a plethora of colors to complement the design elements on your exterior.
As the gutter protection expert, Barry Best Seamless Gutters offers only the highest quality of products and services to keep your property dry and damage-free. We have extensive skills and vast experience to deliver a quick and efficient installation. Call us at (315) 697-5000 to learn more about our offerings. You can also fill out our contact form for a free quote. We serve Hamilton, Fayetteville, Syracuse, and various areas in NY.