With spring's warmer weather, you and your family can spend more time outdoors. Today, Barry Best Seamless Gutters, a premier retractable awning installation company in the area, shares some reasons to invest in retractable awnings this spring.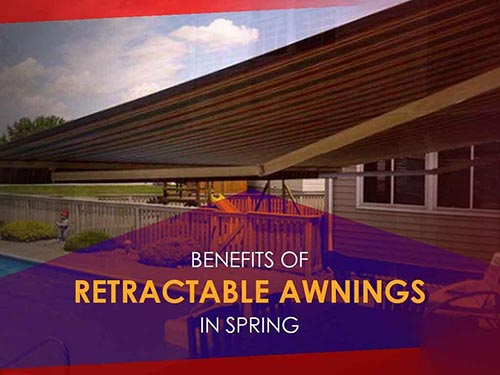 Extends Outdoor Space
Take advantage of spring's pleasant weather by adding retractable awnings to your home. Awnings help maximize your outdoor space and allow you to enjoy outdoor activities, such as grilling, board game night or cocktail hour with your loved ones. Choose the right awning size to provide the shade you need.
Provides Protection
Awnings help shield your home from the elements. They can also protect your outdoor furnishings from rain and too much exposure to the sun. Get in touch with your local contractor for retractable awning installation to help keep your outdoor area in great shape.
Improves Energy Efficiency
A recent study found that window awnings can help minimize solar heat gain in the summer by up to 65% on south-facing windows and 77% on west-facing windows. This can help drive your utility costs down and make your home more comfortable all year round.
Boosts Curb Appeal
Retractable awnings come in a variety of colors and patterns; you won't have a problem finding one that suits your preferences. You should consider the overall design of your home, however, before choosing one. We offer Sunesta® retractable awnings that are equally at home in traditional and modern homes.
The best part about investing in awnings this spring is you are more likely to get the installation schedule you want, as spring is generally a less competitive season for contractors.
Count on a leading contractor like Barry Best Seamless Gutters for your retractable awnings. Call us today at (315) 697-5000 to learn more about our products and services. We serve residents of Manlius, Fayetteville, Syracuse and nearby areas in NY.