Are you looking for ways to boost the exterior beauty and style of your New York home? If yes, one way to impressively enhance the look and appeal of your home's exterior is investing in retractable awning installation in Fayetteville, NY. Awnings are great for improving the style, beauty and living space of your home all while helping you save on cooling costs. They play numerous roles in your daily life. For instance, since they come in numerous colors, shapes and styles, you have the opportunity to use them on your patios, entryways and virtually any other area of your home you want to highlight.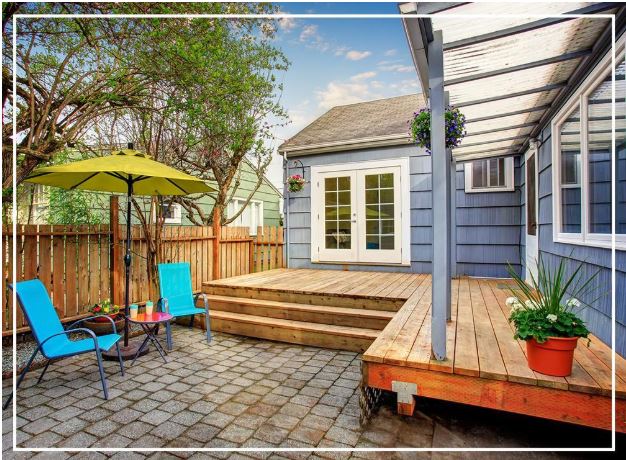 They can also help increase your home's energy efficiency. Awnings help reduce your energy bills because they offer shade for your windows and keep heat and moisture elements from trapping into your interior. In fact, they are capable of minimizing interior heat in homes by 65% when windows are facing south and 77% for windows facing west. In addition, you can have a more enjoyable stay on your patio or deck all year round, as awnings help you use your outdoor space, rain or shine. When you use awnings on your patio, you can also expect them to prevent UV damage on your outdoor furniture and even your interior carpeting and furnishings.
A Look at the History of Awnings
At the crack of dawn, a store owner rolls out an awning to start the day; throughout the day, shoppers stand under the canopy to check out their favorite window displays or shield themselves from a brief bout of rain. On a summer afternoon, a family gathers under their patio awning to enjoy the shade. These are some of the common scenes from earlier urban life here in New York and other parts of America, and reveal just how prevalent awnings are throughout our history.
Today, you may be used to seeing storefront awnings in Manlius, NY, but are you familiar with how these products came about? If you're thinking about enhancing the appearance and comfort of your home or commercial property, then continue reading to learn about the evolution of these products and their use over the years.
Historical Background
Primarily used for commercial structures in their early years, awnings have changed little over the course of history. Records dating back to ancient Egypt and Syria show the use of woven mats as shade for market stalls and some residential properties. In the Roman Empire, large, retractable fabric awnings were used to shelter the seating areas of stadiums and amphitheaters, including the Coliseum. Awnings were also part of ancient literature back then. In 50 B.C., the Roman poet Lucretius associated thunder to the sound that "linen-awning, stretched, o'er theatres, gives forth at times, a cracking roar, when much 'tis beaten about, betwixt the poles and cross-beams." Over the next two millennia, awnings remained one of the most important features of both residential and commercial properties throughout the world, while the technology used in their construction changed little.
Awnings in the 19th Century
When awnings started appearing on American storefronts in the first half of the 19th century, they were simple and offered purely utilitarian features. They became even more common in the years after the Civil War. During this time, iron plumbing pipes were quickly adapted for awning frames, and new arrays of frame and fabric options for awnings were introduced for both storefronts and home windows.
Operable/Retractable Awnings – Ever wondered how retractable awnings in Syracuse, NY, came to be? In the second half of the 19th century, manufacturing companies began creating new technologies for awnings, giving birth to the operable awning. Before operable awnings were a thing, the majority of awnings had fixed frames, in which the best way to retract the covering was by rolling it up by hand. Operable units for both storefronts and window awnings had extension arms or raised to retract the system using simple rope and pulley arrangements.
While these awnings allowed a more flexible approach to shading-shopkeepers in adjusting the systems depending on weather conditions, these operable units also presented some notable drawbacks. When retracted, their coverings usually bunched up against the building facade, leaving them exposed to harsh weather and create a place for standing water to pool. Additionally, the retracted fabric often obstructed a portion of the window opening, which presented an unsightly appearance.
Roller Awnings – To make up for the drawbacks of the original hinged awning, new roller awnings made use of a wood or metal cylinder around which the canvas was stored when the system was retracted. Only the valance was visible when it's fully retracted. Most of these roller awnings had fixed arms similar to those found on the earlier operable awnings, only theirs were connected to an adjustable slide rod rather than hinged directly to the store or home facade. This helped increase headroom along the sidewalk.

Shapes and Stripes – During this time, a lot of store owners and homeowners wanted their awnings to be more customized and attractive. A wide selection of striped patterns took the awning beyond its original, utilitarian function to serve as decorative elements for both commercial and residential properties. Manufacturers started coming up with new shapes, colors, patterns and hardware to suit a variety of home, door, window and porch styles.
Awnings in the 20th Century
During the early 20th century, awning development focused on improving operability. This new focus paved the way for new folding-arm awnings that operated either vertically or horizontally. Lateral arm awnings, which worked like a human elbow with the spring action in the arms extending outward, were also introduced. It was also during this time when scissor arm awnings began appearing on storefronts and windows. These awnings have a pair of vertical, hinged arms on either side of the assembly, supporting the front bar.
New Coverings – In the early days, awnings, in general, were made from canvas, but as years passed and the American society began thinking more progressively, more elaborate and sturdier awnings started to grace most of the properties in the country. During this industrialization period, there had been a significant rise of awnings as manufacturers employed plenty of new production techniques. Standard canvas awnings were replaced by acrylic, polyester, vinyl, fiberglass and aluminum awnings, offering better durability and low maintenance features.

New Shapes – During the 1970s and 1980s, new awning shapes began appearing on local markets. Mansard awnings, concave awnings, quarter-round awnings and quarter-rounds with rounded dome ends appeared with increasing frequency. Not only that—they also had vinyl and other plastic coverings, as manufacturers believed these materials are more resilient than the traditional options. These awnings also featured bold lettering and colors, which served as a business' primary sign.
Modern Awnings
Today, awnings are enjoying renewed popularity, as more and more residential and commercial property owners look for ways to minimize their environmental impact and spend less on cooling costs. Many Americans stopped installing awnings with the invention of air conditioning, but these products still play a key role in protecting our interiors from damaging UV rays. By blocking the sun's heat this way, awnings can help lower the amount of energy needed to cool our interior areas. They are also excellent in adding aesthetic interest to our homes, thanks to the wide array of awning styles, colors and patterns available today. Most importantly, modern technology has eliminated many of the problems of early awnings—most of today's options come with a remote control to help homeowners and store owners operate them more easily.
Retractable Awnings from Barry Best Seamless Gutters
As one of the most trusted providers of retractable awnings and seamless gutters in Syracuse, NY, and the nearby areas, Barry Best Seamless Gutters is here to provide the best products for your home. If you're interested in getting new awnings for your New York home, get in touch with us and we'll help you select the best options that will suit your personal taste and style. We only partner with the top brands to make sure you maximize the full benefits of your new awnings or even your new heated gutter systems in Canastota, NY.
For our retractable awnings, we work with Sunesta®, the industry leader in retractable awnings, screens and shade products here in New York and in other parts of the country. Sunesta offers custom solutions for your any shading need, and as your partner, we'll help you choose the options that will meet your lifestyle and help you create the outdoor getaway you've always dreamed of. Here are three types of retractable awnings we offer:
Sunesta – The flagship retractable awning offered by Sunesta, this type is available in widths up to 40 feet and projections up to 14 feet, 8 inches. Sunesta awnings come in an impressive array of fabric, color and pattern options, allowing you to create the perfect complement to your outdoor space.

Sunstyle – This Sunesta product is made-to-order, aiming to perfectly fit your home's specific requirements. Sunstyle awnings can come in widths up to 40 feet and projections up to 11 feet, 6 inches. Easily the best seller Sunesta product line, it is available in beautiful fabrics and flexible customization options.

Sunlight – Available in widths up to 24 feet and projections up to 10 feet, the Sunlight retractable awning offers a complete customization experience for any homeowner or business owner.
Despite being around for centuries, awnings remain highly effective for providing shade and shelter outdoors. If you want to know more about our awning installation and other services, like gutter installation in Syracuse, NY, get in touch with us. Barry Best Seamless Gutters provides the best quality awnings and frames for any restaurant or business, as well as homes and apartments, for any time of the year.