The Sunlight
An Economical, Custom Shade Solution
Barry Best Seamless Gutters Gutter Helmet is proud to provide retractable awnings from Sunesta®, a pioneer in the awning industry. Sunesta retractable awnings allow you to fully control the shade over your outdoor living space, giving you the freedom to enjoy your deck or patio at any hour of the day. Control of your retractable awning is as easy as pushing a button or turning a handle. If you choose one of Sunesta's motorized awnings, you'll enjoy many additional features for enhanced functionality, including sun and wind sensors that automatically extend and retract your awning based on your local weather conditions.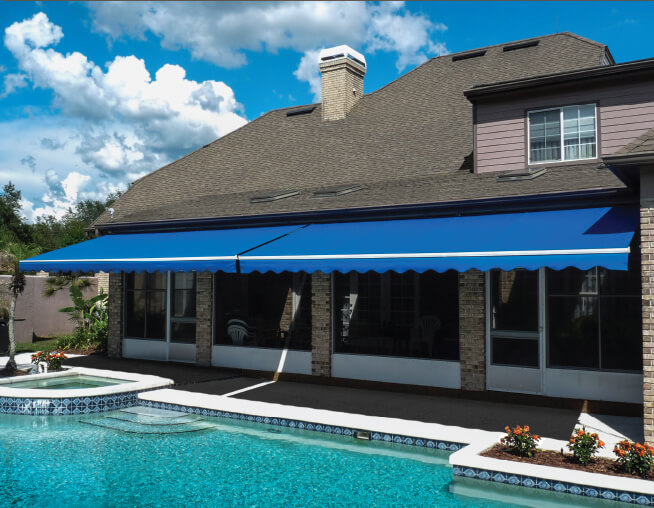 With a Sunesta awning, you don't have to settle for a cookie-cutter shade solution. At Barry Best Seamless Gutters, we understand your home is unique, and we believe your retractable awning should be too. You will enjoy total customization to meet your style and shading needs, so your new awning will become an extension of your home and lifestyle.
Benefits of the Sunlight Awning
When you need a cost-conscious solution to providing shade for your home or business, you need the Sunlight retractable awning from Sunesta.
Solution-dyed synthetic fabric will not fade, mold or mildew
Available in more than 150 fabric choices, including many different colors and patterns
Available in widths up to 24 feet and projections up to 10 feet
Choose from three different frame colors: beige, clay and white
Backed by a lifetime warranty on the frame, a 10-year warranty on the fabric, and a five-year warranty on the motor
You'll be impressed by the selection of fabrics available for your Sunlight awning. Choose from more than 150 striped and solid options made from colorfast, solution-dyed synthetic fabric that will not fade and resists mold and mildew growth. It's the perfect finishing touch for any outdoor living area.
Get a Custom Awning Quote
Enjoy your outdoor living space fully with a Sunlight retractable awning from Sunesta. For a free awning estimate, call Barry Best Seamless Gutters at (315) 697-5000 or submit our online form.