Prevent Frozen Gutters in Syracuse NY, and the Local Area, with Helmet Heat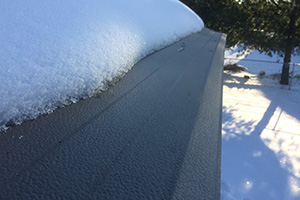 In upstate New York, snowfall in the winter is a common occurrence. When you hire a local gutter contractor to protect your home with Helmet Heat, you benefit from preventing damage from ice and snow build up. Here is a look at just where ice can end up on your roof and how a heating system for your gutters can help.
Where Does Roof Ice Go?
Whether it comes from snow melting off your roof, or rain during the winter, ice can build up along your roof and eaves. The cycle of melt, then freeze, then melt, then refreeze allows ice to slowly build up, move and slide, until it gets caught in dips on the roof. Here are the most common places ice builds up on your roof:
Roof eaves
Places where your roof changes pitch
Inside gutters
Inside and around downspouts
How Does Helmet Heat Prevent Damage?
The Helmet Heat system works through a cable installed in your roof. This cable increases and decreases in temperature in response to the temperature of your roof. When temperatures drop and ice forms, the cable heats up to melt any ice and allow it to flow freely from your roof and into your gutters in Syracuse NY, or the local area. No more icicles weighing down your gutters! In warm months, the cable cools down to decrease energy use and prevent overheating your roof.

Find Out More with a Free In-Home Consultation
When you call us or use our contact page to schedule a consultation, you're on your way to having a roof that will better handle ice and snow. Here at Barry Best Seamless Gutters, we're happy to answer all your questions. Don't let another winter or cold snap go by without a consultation, we'll let you know how best to protect your roof and your home.