Gutters play a critical role in protecting your home from the elements. They help prevent foundation cracks, soil erosion, basement flooding, among many other major problems. You should keep them in excellent condition at all times to continue enjoying the benefits they provide.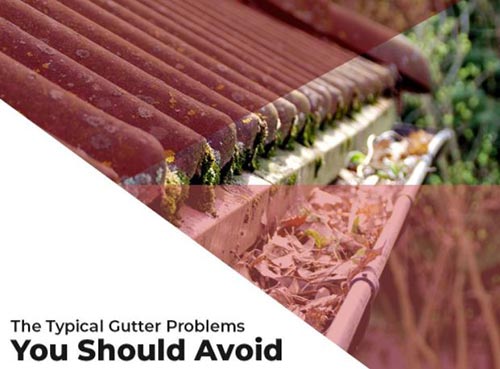 While experts recommend maintaining your gutters at least twice a year, you need to keep an eye on them more regularly than that to be sure they aren't developing issues. Read on as Barry Best Seamless Gutters, your gutter protection expert, discusses common issues you should always be on the lookout for.
Leaks
Holes, cracks and loose fasteners can cause leaks in your gutters. Even if the leaks are small, they can quickly worsen and inflict severe damage to your home.
Holes and cracks can be fixed with a quality sealant. When the damage is extensive, however, it's better to replace the gutters completely with a more durable system. We also recommend investing in a high-quality gutter cover like Gutter Helmet® to further boost your gutters' defense against leaks.
Clogs
Debris like leaves and dirt can find their way into your gutters, resulting in clogs that prevent water from draining properly. This can put your roof, siding and foundation at risk of damage. Mold can also develop in moist areas, which can aggravate health issues.
Gutter Helmet will spare you from this issue. Unlike other gutter guards, it comes with a nose-forward design that filters out debris. It also features a ribbed surface, which water clings to through the principle of surface tension as it flows smoothly through the system. With these qualities, you can rest easy knowing your gutters will remain clog-free for many years.
Improper Pitch
Improperly pitched gutters are usually caused by poor installation. This problem can cause water to back up into your roof or leak into your siding. This puts extreme stress on the system, causing the gutters to sag or pull away from your home. If you spot this red flag, turn to the experts at Barry Best Seamless Gutters for immediate repairs. We'll also address this issue during gutter guard installation.
Combined with our professional services, our top-notch gutter covers will prevent you from having to deal with common gutter problems. In turn, you can save significant time, money and energy on repairs and upkeep. Call us at (315) 697-5000 to learn more. We serve Fayetteville, Syracuse, Hamilton, and nearby areas in NY.