Your gutters are among your home's essential defenses against rain, snow and other harmful elements. They collect water from the roof and direct it to your downspouts, preventing damage to your home's foundation. Given their crucial role in keeping your home structurally sound, you need to be sure you're investing in high-quality gutters.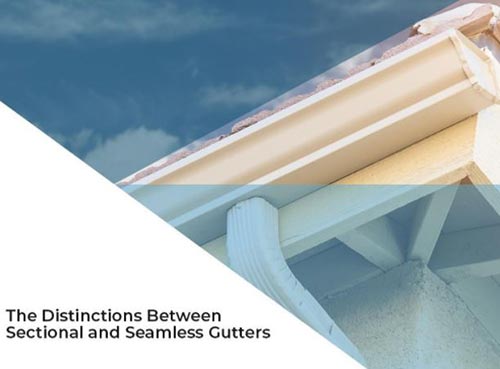 There are two main types of gutters available today: sectional and seamless. Read on as Barry Best Seamless Gutters discusses their differences:
Sectional Gutters
As their name suggests, sectional gutters are sold in sections so you can put them together over the entire length of your roof. They come with drop outlets, corner pieces and end caps. They are usually available in 10- to 20-foot sections with multiple seams.
This kind of system is affordable and readily available, making it a great choice for DIYers. However, there's one major drawback to sectional gutters. Because they feature multiple seams, they are more prone to leaks and clogs. This can put your home in a risky situation during bad weather.
Seamless Gutters
Seamless gutters, on the other hand, are formed from a single piece of metal. They only have joints at the corners where they connect to the downspouts. With their continuous design, they are more leak-resistant and also easier to clean. This ensures reliable performance throughout the years.
Unlike their sectional counterparts, seamless gutters are custom-made and require expert installation. This allows for precise measurements and flawless workmanship, so you can rest easy knowing your seamless gutters will do their job properly to safeguard your property. They also come in a wide array of colors to match your home's exterior.
As your dependable gutter contractor, we recommend seamless gutters for your needs. They outweigh other types of gutters in so many ways, from efficiency to value. Give us a call today at (315) 697-5000 for more information. You can also ask for a free quote. We serve Syracuse, DeWitt, Manlius and surrounding communities in NY.