Your gutters play a key role in protecting your home from water damage. They do this by directing water away from your foundation to keep it structurally sound. They also preserve the beauty of your siding by preventing rot, mold growth and other problems. Due to their open design, however, they are prone to clogging.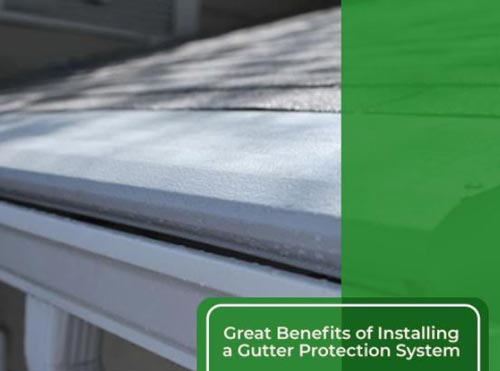 An easy and effective way to keep your gutters clean and clog-free is by installing a gutter protection system like Gutter Helmet®. Here's how this innovative gutter protection system will make your life easier and your home safer:
Saves You Time and Money
Leaves, twigs and other debris can collect in your gutters over time. This is why homeowners need to clean their gutters out regularly. If you're too busy to deal with this, you can always hire professionals to handle the task for you. However, an easier and more cost-effective solution is to install a gutter protection system. Gutter Helmet, the leading gutter protection system on the market, eliminates the need for gutter cleaning for good, saving you both time and money.
Makes Your Gutters More Efficient
Gutter guards are designed to block debris from entering your gutters so water can flow smoothly into the downspouts. As such, gutter guards reduce the risks of problems like leaks, rust and sagging gutters, thus prolonging the lifespan of your gutters.
Promotes Your Health and Safety
Debris buildup and standing water in clogged gutters encourage insect infestation and mold growth, which can be harmful to your health. Worse, this added weight can cause your gutters to pull away from your home, which means part or the entire gutter system could collapse anytime. Investing in a gutter protection system will help prevent these hazards.
Your search for the best gutter covers for your home ends with Gutter Helmet. This product boasts high-performance features, including the nose-forward design and textured surface, to keep debris out and maintain unimpeded water flow. It's built to withstand nearly anything Mother Nature throws at it, making it a permanent solution to gutter clogs.
To learn more about Gutter Helmet, call us today at (315) 697-5000. You can also ask for a free quote. We serve Hamilton, Fayetteville, Syracuse and nearby areas in NY.